Not everyone is able to say they lived in the darkness for more than half their life and live to talk about it. The strength to relive the past daily and utilize it to help others individually and as a conduit through law enforcement demonstrates a special form of resilience. This is a true definition of Sherrie Allsup. As a subject matter expert, Sherrie has found the power to step into her purpose and advocate for sexual assault victims and survivors. As a sexual assault survivor, she makes it about the other person and not herself. She is a unique and special individual who has made the passionate choice to come out of the darkness and shed the layers of trauma, to help those enduring or have endured trauma through her story.
Mental health is the silent person in the room. Mental illness is the unknown. Yet, suicidal ideations are the loudest in your mind. Sherrie is all too familiar with all three. Facing death in the face is something she can say she did and lived to talk about it. When you are enduring the insurmountable pain for an extensive number of years, that is hidden beneath so much trauma and abuse, the outside world is unable to see this.
A person enduring such trauma has an innate ability to respond to situations or their environment as if nothing is wrong. Answering the next person how we believe they want to hear. Acting the way, they want us to act. Or even smiling and laughing when they want us to.
Breaking free from trauma – a pivotal moment in a victim's life
From buying a cemetery plot, purchasing the outfit she wanted to be buried in, and making the decision that morning was going to be the day Sherrie Allsup no longer lived to endure the pain she lived daily throughout her life. However, that was not the cards she was dealt. That was the moment that Sherrie began to take her power back. Sherrie Allsup's journey took a profound turn when, faced with the contemplation of ending her life, she instead chose to reclaim her power.
In her own words, "Trauma victims almost live plan to plan or we wouldn't survive." This sentiment encapsulates her life, where she navigated each moment with a flickering flashlight, battling the pain that haunted her daily. Embracing Eye Movement Desensitization and Reprocessing (EMDR) psychotherapy, Sherrie embarked on a new chapter. Determined to break free from the past, she decided that the grip of her father's years of abuse is not going to define her
In Sherrie's words, "Trauma victims almost live plan to plan or we wouldn't survive." This is a depiction of her entire life. Walking with a flashlight that often flickered with light she fought daily to get to the next moment, much less the next day. Through, Eye Movement Desensitization and Reprocessing (EMDR) psychotherapy is where she began a new chapter of her life. She decided that her father's years of abuse growing up would no longer define her.
Sherrie states, "Victims are filled with shame, guilt and humiliation." Sherrie tells me and I hear the pain beyond her words.This is often never heard but should needs to be said more. Those who suffered from sexual assault and are continuing through life believing all the negative things they heard, need to understand that this does not define who they must be for the entirety of their lives. When you feel it's too late for anything it is often that you are early for the new beginning ahead of you.
The doors began to open worldwide as Sherrie was the person opening the door for women and men alike who have lived in the dark tunnel for years or are still living in this space. Sherrie's talks span college campuses, public housing and law enforcement with both police and sheriff departments. Sherrie's words were that of a survivor and no longer a victim. The term "10 dime friends rather than four quarter friends" putting her energy and love in was an inspiring moment.
Courage Starts With You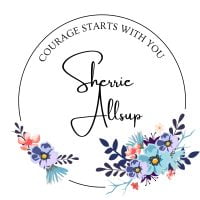 There is short term trauma and long-term trauma and Sherrie's was long-term, but her life was not short-lived. Her impact as a subject-matter-expert with lived experience has caused a wave that spans east to west and north to south. With her non-profit Courage Starts With You Foundation, she educates those from a victim's point of view.
Sherrie is a subject-matter-expert with lived experience as you are unable to get an education, take a test, or enroll in a course to be able to educate or speak to others regarding sexual assault. She is a pioneer and a testament to so many that has often had people in the audience come up to her and say, "You just told my story." Now, if you were to tell Sherrie you are amazing at what you do, previously she would've said, "No, I'm not I'm just Sherrie."
No longer does "Just Sherrie" stand before you. A woman empowered and continuing every day to rid herself of the labels, showing her strength, and using this to educate others to understand how to understand and treat a sexual assault victim. On her left forearm where she can see every day is a tattoo of a semi-colon. For those, who are unfamiliar with why she has this tattoo it is to remind her and others who know the significance of this tattoo is showing her truth and unity with others who have dealt with suicide, but her story is not over yet.
It does not matter how old you are, but Sherrie left a long-lasting impression on me with the words, "Jump off and start." For those who are in the darkness and are unable or simply do not know how to crawl out of this hole or shed these layers of guilt, shame and humiliation I will repeat the words Sherrie said, "Jump off and start."
What the future holds for trauma survivors?
We often wonder what the future holds for us, but for Sherrie, her future is no longer in the dark but under the brightest sunshine and as bright as the stars. Sherrie's story is simple to her but foreign to law enforcement. Her continued work with law enforcement through the training she provides helps law enforcement understand how to work better when they are confronted with a different landscape when working with a sexual assault victim.
Refining the view and understanding of how a sexual assault victim's story is not one to be negated but one to be understood. With each training she provides law enforcement she reminds them, "I share my story with you because when you are working with a sexual assault victim you are going to do better." Her approach to her training is one of long-lasting impression and shaping to fix a broken system. Final words from Sherrie Allsup, "Don't let fear hold you back."
Do you want to share your story and inspire our readers ? Know that every story is paving the way for a brighter, happier future.