In the upper echelons of the wine industry, certain bottles command exorbitant prices, representing the epitome of taste and exclusivity. These wines stand as testament to generations of meticulous winemaking, reaching astronomical price tags that elevate them to the status of liquid gold. 
If in 2018 you were wondering why would anyone ever Pay $558,000 for a bottle of Wine, after the auction at Sotheby's raised $676m perhaps, you want to know more about the cosmic adventures of the Bordeaux case sent to space!
What sets these expensive wines apart?
From the sun-drenched vineyards of Bordeaux to the rolling hills of Tuscany, these wines are born from exceptional terroirs. Grapes meticulously nurtured and harvested at the peak of perfection contribute to the unique character of each vintage. Among the elites, names like Château Margaux, Domaine de la Romanée-Conti, and Screaming Eagle command reverence. From the opulent reds of Burgundy to the silky textures of Napa Valley Cabernets, each sip is an exploration of the sublime.
What sets these wines apart, aside from their impeccable taste, is a combination of factors. The grapes are from single estates (particularly in Burgundy) and the result of  biodynamics, a holistic view of viticulture balancing "the resonance between vine, man, earth and stars."
Biodynamics starts in the vineyard well before the winemaking process begins.
Every aspect, ranging from planting and pruning to harvesting, adheres to a distinct biodynamic calendar. This calendar, crafted originally by Maria Thun, often referred to as the 'high priestess' of Biodynamics, categorises days into four types: Root, Fruit, Flower, and Leaf Days.
The original, and still the best, biodynamic sowing and planting calendar, now in its 62nd year. Shows the optimal days for sowing, pruning and harvesting plants and crops.
The inevitable passage of time contributes to the rarity of these liquid gems. As the years roll by, the limited production becomes more desirable among collectors and investors alike. The quest for the world's most expensive wines often leads to prestigious auction houses. Here, bidding wars unfold as enthusiasts vie for the privilege of owning a piece of liquid history. In these hallowed halls, prices can soar to cosmic heights, shattering records and setting new benchmarks for the definition of luxury.
The Most Expensive Aged Wines in the World
A symbol of opulence, status, stored in grand cellars or showcased in private wine rooms, these bottles of aged wines hold a revered status among oenophiles. For those seeking the epitome of sophistication, we curated the most expensive aged wines that stand as both a testament to time and a celebration of the resonance between vine, man, Earth and Stars.
Back from Space, Petrus 2000 is sold out
Throughout history, humanity has sought guidance from the celestial sky, a practice spanning from the ancient Greeks and Egyptians to the present day. Space Cargo Unlimited, a pioneer in investigating the impact of microgravity on wine, sent a crate of red wine to the International Space Station (ISS) in 2019.
After spending nearly 14 months in space, in near zero-G the twelve bottles returned to Earth in January 2021. The space-aged wine was subjected to meticulous analysis by a team of scientists and oenophiles to discern how the extraterrestrial conditions had influenced its composition and flavour profile.
In March 2021 a group of connoisseurs gathered in a historic tasting event. The space-aged Bordeaux revealed subtle nuances and alterations in its aroma and taste, sparking discussions on the impact of microgravity on the maturation of wine. A space-aged bottle of the iconic Petrus 2000 was sold by Christies in a private sale with an estimated US$1M price tag in May 2021.
Taking this adventure one step further, the startup has now established a dedicated subsidiary, Space Biology Unlimited. Collaborating with Mercier, this new venture aims to cultivate grape vine varieties that exhibit enhanced resistance to changing climates.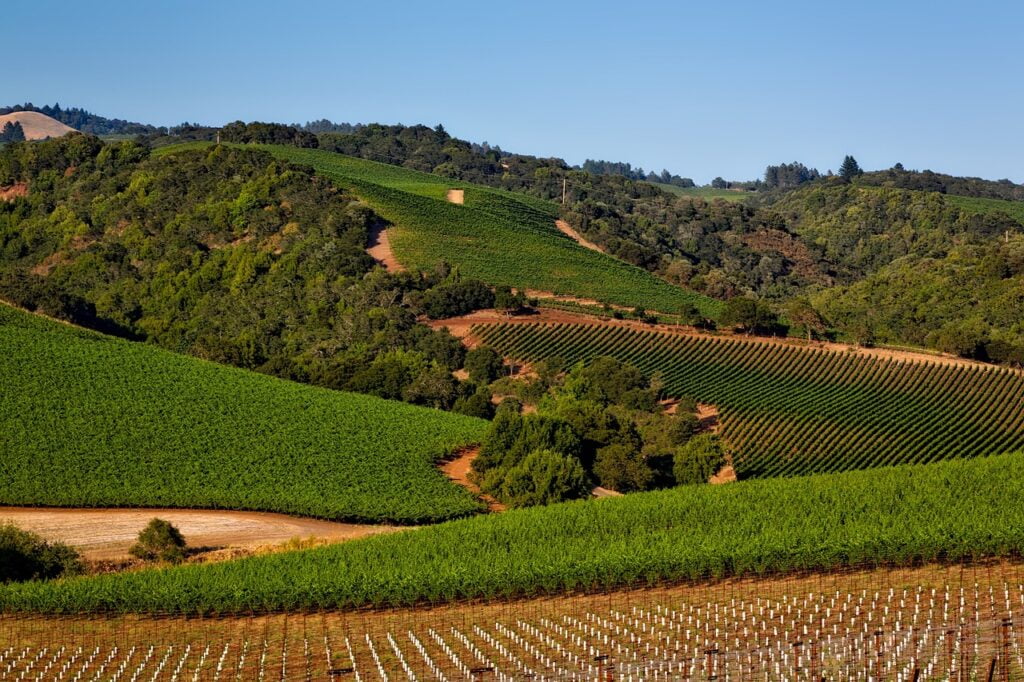 How much for a single bottle of 1945 Romanée-Conti?
Prior to Christie's private sale, in 2018 Sotheby's auction in New York, a private Asian collector made headlines by placing a staggering bid of $558,000 for a single bottle of 1945 Romanée-Conti. This bid not only shattered the existing record for the highest price ever achieved for a 750ml bottle of Burgundy but also claimed the title for the highest amount ever paid for any bottle of wine at auction.
Following this groundbreaking moment, another private collector from the U.S. promptly set a new record by acquiring a second bottle of the same 1945 Romanée-Conti for $496,000, surpassing all previous auction records except the one that had just been established.
 Château Lafite Rothschild 1869
This Bordeaux gem, dating back to 1869 and its historical significance is one of the most sought-after aged wines. With its refined palate and enduring legacy, a bottle of Château Lafite Rothschild 1869 commands a staggering price, attracting collectors worldwide.
Penfolds Grange Hermitage 1951
Hailing from Australia, the Penfolds Grange Hermitage 1951 is a venerable Shiraz that has aged into a masterpiece. Its rarity and the distinctive character bestowed upon it by decades of maturation contribute to its status as one of the world's most expensive aged wines.
Domaine Leroy Musigny Grand Cru 1945
For enthusiasts of Burgundy wines, the Domaine Leroy Musigny Grand Cru 1945 is a coveted relic. This Pinot Noir, aged to perfection, encapsulates the essence of its terroir and stands as a testament to the enduring quality of well-crafted Burgundy.
Screaming Eagle Cabernet Sauvignon 1992
Napa Valley's Screaming Eagle is renowned for producing exceptional Cabernet Sauvignon, and the 1992 vintage is no exception. With its opulent fruit profile and impeccable aging, a bottle of Screaming Eagle Cabernet Sauvignon 1992 is a rare and prized possession.
Romanée-Conti 1945
The Romanée-Conti vineyard in Burgundy is synonymous with excellence, and the 1945 vintage is an exemplar of its prowess. This aged Pinot Noir is a masterpiece that reflects the finesse and grace that define the wines of Domaine de la Romanée-Conti.
Château Margaux 1787
Steeped in history, a bottle of Château Margaux 1787 carries not only the weight of its age but also the intrigue of its reputed owner, Thomas Jefferson. The craftsmanship of this Bordeaux wine has made it an icon among the world's most expensive aged wines.
Taylor Fladgate Scion 1855
A rarity from the Port wine collection, the Taylor Fladgate Scion 1855 is a testament to the endurance and complexity that time imparts to fortified wines. With its rich, velvety texture and centuries-old lineage, it stands as one of the most distinguished aged Ports.
DRC Romanée-Conti 1990
The Domaine de la Romanée-Conti makes another appearance on this list with the 1990 vintage. Revered for its ethereal balance and complex layers, a bottle of DRC Romanée-Conti 1990 fetches a premium price, solidifying its position among the world's most expensive aged wines.
In the world of aged wines, these wines stand as living testaments to the artistry and dedication that define wine makers and the resonance between vine, man, Earth and Stars. Collectors, investors and wine enthusiasts recognize their worth, making them prized treasures in the ever-evolving history of fine wines.
Do you want to share your story and inspire our readers ? Know that every story is paving the way for a brighter, happier future.