This  National Law Enforcement Suicide Awareness Day I believe it's essential to understand that the term frontline may not only be perceived in the fashion of those who are in professions with exposure to danger, threat, or even possible death. Kevin Donaldson faced the challenges of emotional and physical mistreatment from a young age, a struggle that isn't merely a singular event for those who endure such hardships.
Battling emotional and physical abuse plagues you through life, you start to ask the fundamental questions: who, what, why, how, and where. Kevin's journey exemplifies someone consistently on the frontlines, enduring an unending struggle against the invisible. Often, when facing such types of abuse, one continuously seeks something to fill the void that has been present throughout their life, much like Kevin's experience.
Becoming a Police Officer: Through the Eyes of Kevin Donaldson
As you go through life searching for that one purpose you know you are destined to be and to do, many different paths are explored. For Kevin, becoming a police officer wasn't initially a clear choice. Circumstances often put people in the place they're supposed to be, when they're supposed to be there and life has a way of pushing one towards the purpose they are meant for. Kevin is a prime example of this.
Police work came out of a fortuitous opportunity and a chance meeting. Now, as a police officer and on the frontline,  he faces challenges and risks that surpass those he encountered in his earlier life. Kevin initially joined the police force attracted by the salary, pension, and other benefits that seemed almost too good to be true. 
However, he soon realized that the role held a deeper significance and purpose. He sensed a calling, believing it was to serve as a police officer. However, during his training at the police academy, his path dramatically shifted. The events of 9/11 unfolded while he was in the midst of his 22-week training program. The world was shaken in an unprecedented way. His training was abruptly shortened to 18 weeks, and Kevin was armed and dispatched to a new form of policing in a rapidly changing landscape.
Upon returning to his quiet hometown in New Jersey, Kevin's view of his role as a police officer evolved. He became dedicated to ensuring safety, offering hope to those in distress, and being a reliable figure for those uncertain of their next steps. He wanted the community to recognize that he stood as a beacon of guidance and support. A great example to demonstrate exactly who Kevin is; as he responded to an incident where a woman was willing to take her life with her child by her side, Kevin took it upon himself to disregard the training he was given.
He made the personal choice and felt compelled to sit down and simply talk to her. He walked away feeling empowered and thought to himself this is what he signed up for; this is what his view of being a police officer was and was more certain than ever that he had found his true calling. On, July 10th, 2013, Kevin's life once again took a sharp turn. While responding to a domestic dispute, an assailant discharged their firearm, narrowly missing Kevin's head; he did not realize at the time but this incident would go on to take an exceptional mental toll and would change his life forever. 
Unexpected Things Happen in Life that Will Change Your Path Forever
Unaware of the symptoms of post-traumatic stress, Kevin found himself engulfed by them. Trauma, in any form, has varied effects on individuals. The intensity magnifies when one is navigating unfamiliar emotions and experiences. While outsiders can observe the changes, the individual undergoes the physical and psychological turmoil internally. No one truly knows the depths of another's thoughts. This tumultuous phase saw Kevin spiraling, resorting to alcohol, displaying anger, and distancing himself from his loved ones. Feeling a deep sense of despair, attempted to commit suicide by consuming a significant amount of clonazepam, a potent benzodiazepine drug. This medication, when mixed with alcohol, can be lethal. Miraculously, he woke up the next morning, questioning why he was still alive.
From that moment, he made several more attempts on his life, yet he remains with us today. He decided to confront his pain head-on, attending group therapy and realizing he wasn't the only one grappling with such challenges. He began to support others in the group, forging genuine connections and assuring them of their shared journey. Having walked that path himself, he was determined to stand alongside them, ensuring no one felt isolated during their toughest times.
The Suffering Podcast Was Born
Then, COVID hit, and everyone went on lockdown causing more mental stress and enduring suffering in silence. The Suffering Podcast became that extension of group therapy that at that time no one was able to attend. Kevin decided to share his personal struggles and journey as a means to support and make a difference in the lives of others and leave a legacy. Becoming a mental health advocate by sharing his story with the world so people can see they are not alone. He utilizes his story to begin changing the narrative around mental health. As time passed, Kevin started to find moments of lightness, occasionally allowing himself a genuine smile.
By aiding others through the same shadows he once battled, Kevin discovered peace and hope within himself. His personal suffering, which once seemed insurmountable, became the driving force behind his advocacy. Through his own traumatic experiences, he now dedicates himself to assisting others on their mental health journeys
With National Law Enforcement Suicide Awareness Day coming soon Kevin feels compelled to further his message and share his story, to prevent any other lives lost and remind those they are not alone.
Final Words of Impact from Kevin Donaldson
Kevin Donaldson's profound reflections on his role as a mental health advocate highlight the importance of acknowledging and confronting personal suffering. As Kevin states, "People have this misconception that advocates have it all together and have solved the puzzle. This promotes imposter syndrome because when they inevitably fall, they fail to meet the standards they advocate for. What the advocate does have is the tools, perspective, and understanding in their field, to erase the chaos of an unknown situation. Advocates must remember this: you impress people with your success but connect with people through your vulnerabilities."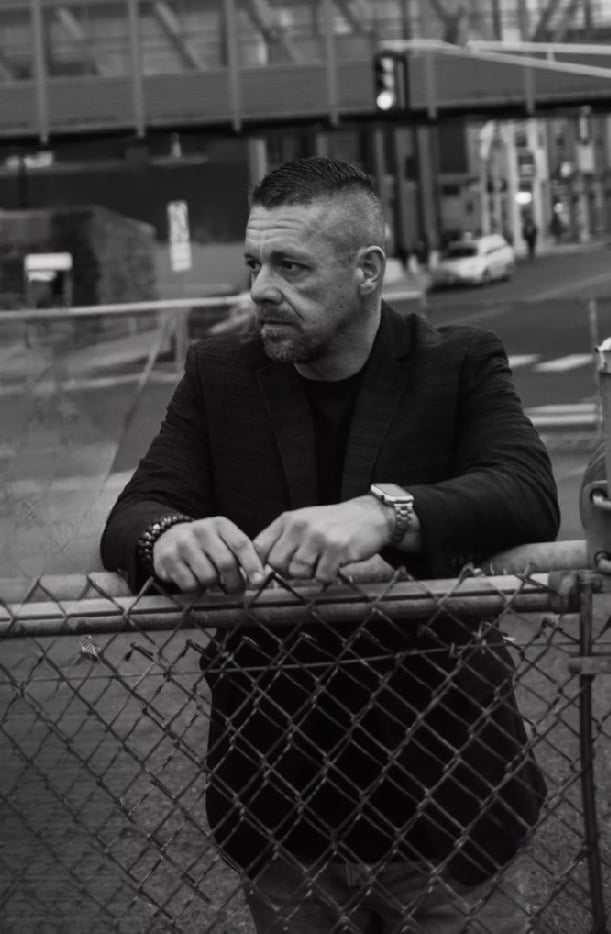 Kevin's journey propelled his advocacy for mental health, which is now stepping into a movement nationwide. Kevin Donaldson is not done but has just begun to touch the surface. It doesn't begin and end with his message of suffering but helps others stop suffering in silence.