In a world that often seems filled with noise, one woman has found a way to turn sound into a tool for healing and empowerment. Shilpi Das Chohan, a certified Sound Healing Practitioner, Voice & Speech Coach, and Visual Storyteller, has dedicated her life to helping others find their inner harmony through the power of sound and voice.
The Healing Power of Sound
"Emotional stress is a major contributing factor to the six leading causes of death in the world: cancer, coronary heart disease, accidental injuries, respiratory disorders, cirrhosis of the liver, and suicide," Shilpi explains. She believes that ancient healing methods, particularly sound healing, can help combat these issues.
Sound healing is not a new concept. "Sound has an ancient kinship with meditation and healing," Shilpi says. "From mantra chanting and blowing of the conch to bells or gongs in places of worship, the Himalayan singing bowls, there is a reason behind using sound in spiritual and religious ceremonies for invoking the divine, and warding off negative energies, in every culture around the world."
Shilpi uses the Himalayan Singing Bowls, powerful sound healing instruments, in her practice. "As a certified Sound Healer or Sound Meditation Practitioner, I am trained in the usage of the Himalayan Singing Bowls," she says. "They are handcrafted metal bowls which are actually inverted or standing bells that originated thousands of years ago."
The Power of Voice
Beyond her work in sound healing, Shilpi also emphasises the importance of a strong vocal presence. "Our voice is the vibration and our emotions fuel it," she explains. "Voice is the pivotal tool for expression and communication in the human world."
Shilpi provides training to help individuals learn to modulate their voice and use it like a musical instrument. "Possessing a magnificent voice is a gift, but it is not the sole criteria to excel in speaking," she says. "A person with even a mediocre voice can make the best use of it by training to modulate it and learning to tune it like a musical instrument."
A Heart for Philanthropy
Shilpi's commitment to giving back to society is deeply ingrained in her life philosophy. She believes in Individual Social Responsibility, a concept that emphasises personal choice in contributing to society. Inspired by her mother's compassionate actions and her own experiences, Shilpi has been involved in various philanthropic activities.
"I strongly believe in Individual Social Responsibility, because giving back to society is a personal choice, one that anyone can make as per their capability. I have grown up watching my mother reaching out to the needy in her own thoughtful ways. I must have involuntarily imbibed the compassion she naturally exhibited," she shares.
Shilpi's philanthropic journey includes volunteering for orphanages and old age homes, advocating for child adoption, and co-founding Charista Foundation, a public charitable trust. She also produced a short film titled 'Poonam', which has received 34 national and international awards and aims to raise awareness about the psychological needs of the elderly.
"There's much more to accomplish in this philanthropic journey. We look forward to building a community of like-minded souls in championing social causes," she says.
Reviving Indian Art Culture
Shilpi's passion for art and culture led her to create 'Baithak', a platform for performing artists and art aficionados. The initiative aimed to revive the culture of relaxed evenings in the company of like-minded people, and up close with extraordinary talents in a home ambience.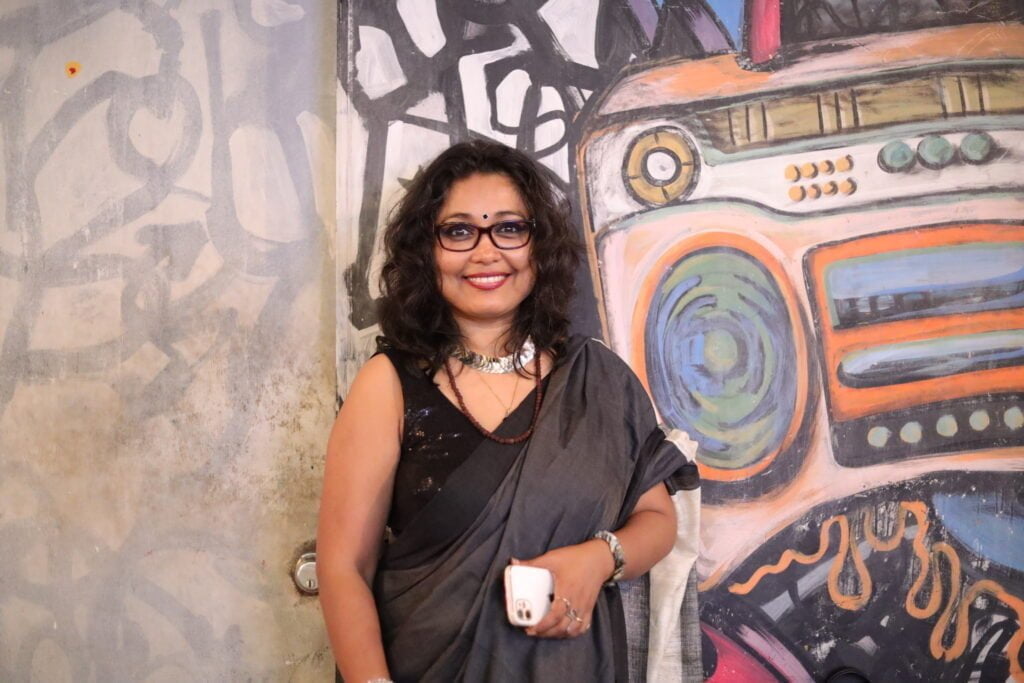 "To encourage art and artists, Charista Foundation encourages underprivileged and talented artists through private concerts and mainline events as and when they are curated to help market them and give them the required exposure," she explains.
The Power of Words
Shilpi's love for words and expression is evident in her book, "The Intimacy of Thought" a collection of intimate poems. The book, she says, was not an intention as much as writing the poems was unintentional. Over a period of time, as she read through them now and then, she could see a plethora of emotions and situations worth sharing with the world as a literary work.
Journey over destination: Let goals be the outcome of the journey towards perfection by continued excellence. Focus on the effort, the goal isn't far.
"Poetic expressions are largely a poet's personal experience of triumph or pain, either their own or their perception of others feelings. More often than not, it's actually pain over triumph that is the catalyst for poetic outbursts," she shares.
Shilpi hopes that her readers will find solace in her poems, resonate with them deeply, and find similarities with the various stages in their respective lives. She also plans to publish a book on cultivating 'Leadership Voice' and possibly venture into fiction or short stories in the future.
Self-Awareness and Intuition
Finally, Shilpi emphasises the importance of self-awareness and intuition. She believes that we are blessed with all the internal resources we need to lead our lives, and that being mindful about how we deal with setbacks and process these life lessons is critical to peace and contentment.
"Intuitive power is inborn and keeps evolving. Being mindful about how we deal with setbacks and process the learnings is critical to peace and contentment," she says. "It's imperative to spend some introspective time with oneself in the silence of home or a getaway in the wilderness. There are endless possibilities and solutions that show up intuitively in the silent zone."
Shilpi suggests that simply sitting in silence with eyes closed could be a great beginning to delve into our inner self and become self-aware, tap into our emotional intelligence and intuitive powers. "One could gradually transition towards practising meditation. I believe we must inspire our children too to adapt this empowering practice from a very young age. This would enable them to grow up to be self-aware, confident, content, thoughtful and mindful."
A Rich Attitude
Shilpi's philosophy of life is centred around embracing fears and failures, leaving the comfort zone, striving for excellence, focusing on the journey over the destination, trusting intuition, and being self-aware. She also emphasises the importance of visualisation, neutrality, pausing, opening up to the Universe, and making choices.
"Time is our biggest resource. There's no good or bad time. It's foolish to wait for the right time to arrive. Awaken the leader in you and lead yourself to take some risks. Have clarity about the outcomes, purpose and intent of the path you decide to tread upon," she advises.
Shilpi's journey is a testament to the power of sound, voice, and a rich attitude. Through her work as a sound healer, voice coach, and philanthropist, she is making a significant impact on the lives of many. Her story serves as an inspiration to all who are seeking to find their inner harmony and make a positive difference in the world.
"I am rich because I have a rich attitude. No other riches allure me than the richness of a strong, unwavering mind and a compassionate heart," she says. This rich attitude, combined with her dedication to helping others, makes Shilpi Das Chohan a true beacon of inspiration.
What's next?
As Shilpi Das Chohan continues to weave her symphony of sound and silence, her journey is far from over. With her unwavering commitment to holistic healing, empowering voices, and philanthropic work, she is poised to make even greater strides in the future. Shilpi's upcoming book on cultivating 'Leadership Voice' promises to be a valuable resource for those aspiring to influence and motivate others. Her ongoing efforts to promote sound healing and voice coaching, coupled with her dedication to social causes, will undoubtedly continue to inspire and uplift many more lives.
As she looks ahead, Shilpi's focus remains on nurturing the power of sound, voice, and compassion to create a harmonious and healthier society. Indeed, the melody of Shilpi's journey continues to play, resonating with promise, potential, and profound impact.
Interested in being featured on Rich Woman Magazine? Request an interview today!