The Queen of Malaysia is fighting the pandemic by joining the front line and treating hospital's workers to a royal meal.
As countries respond to the COVID-19 pandemic, including travel and border restrictions, Malaysia is under lockdown sas the Coronavirus continue to spread. Travelers are advised against all but essential international travel. If you live in the UK and are currently travelling abroad, you are strongly advised to return now, where and while there are still commercial routes available.
Embed from Getty Images
With many airlines suspending flights and many airports closing, preventing flights from leaving, world leaders must take desperate measure that need to be implemented and fast.
Malaysia is the only country in the world who elected their King after previous monarch abdicated last year. Malaysia has an original constitutional monarchy, and the most unique rules, including rotating top jobs every five years between the nine hereditary state rulers.
The Raja Permaisuri Agong (Tunku Azizah Aminah Maimunah Iskandariah Sultan Iskandar ) is the Queen consort of Malaysia's current head of state, Yang di-Pertuan Agong. The Queen recently reactivated her tweeter account and took her role to a new level joining the hospital's workers and cooking for them.
"Today's dishes that I would be sending to the Sungai Buloh Hospital and the Crisis Preparedness and Response Centre (CPRC) are ayam gulai tempoyak, fried cabbage and salted egg."
While media across the globe is trying to figure out why she closed her Tweeter account on Wednesday after an online activist posted insults, The Raja Permaisuri Agong is humbly helping hospital workers in any way she can. Thousands of Malaysians under lockdown are urging her to continue posting updates of her food delights.
"The least I could do…for the govt servants sacrificing their lives … I salute them." – Queen's of Malaysia, Raja Permaisuri Agong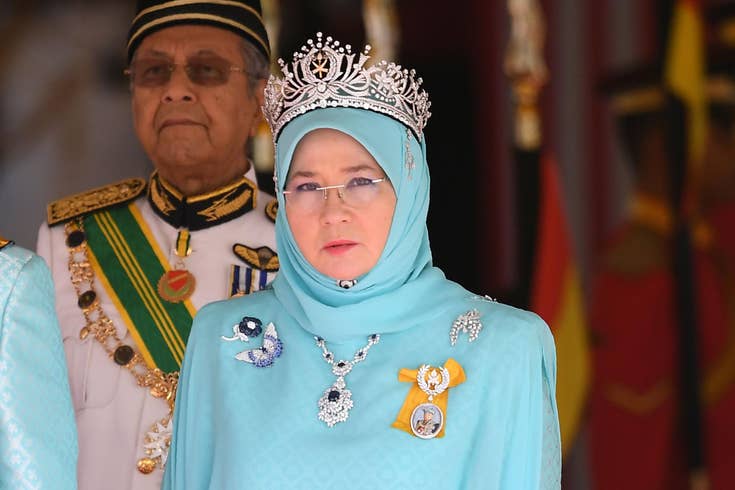 Known for her passion for delicious meals, The Monarch Instagram posts are loved and praised with thousands of likes are pilling while she keeps sending her food to different hospitals in Malaysia like Sungai Buloh Hospital, the Crisis Preparedness and Response Centre and the University Malaya Medical Center. The Queen's Instagram is well garnished with her own recipes.
This woman knows her food! It is hard to ignore her Minta Nutella cake, she recently posted " A crown is not just an ornament to be worn"
As the COVID-19 outbreak takes every nation by storm, we look into how royal families around the world revised their lifestyle, their travel plans and official engagements. 
Is Namaste enough to protect them, and others, from being infected with coronavirus? Is greeting people with a smile keeping you safe? Prince Charles adopted both, the smile and the clasped hands while introduced to hundreds of people during his recent visits to flooded zones in the UK or at the recent ceremony in London, and, yet, testing positive wasn't much of a surprise. This invisible submicroscopic infectious agent doesn't discriminate. relevant to royals who may be introduced to dozens of new people on a daily basis. 
202,943 people recovered from a total to date of 955,130 people who are infected now since the start of the outbreak, worldwide. 48,571 died and the count that started in Asia is going up in 48 European countries already. With a record 950 coronavirus fatalities in 24 hours and the number of new infections on the rise, Spain is on lockdown and considered to be at the peak of the curve.
Are bows and air kisses going to protect Queen Letizia of Spain, 47 and King Felipe VI, 52, French President Emmanuel Macron and wife Brigitte, when they chose to greet from a distance at their official meeting in Paris? . 
Rich Woman is going back to Europe's Kings and Queens to see how Covid19 affect their lifestyle, and have a closer look at Crown Princess Victoria of Sweden, 42 who has continued to shake hands and the Netherlands's Royals who Namaste on an official tour of Indonesia.
Meanwhile, you have plenty of time to try this humble Queen's next recipe.