Anxiety disorders are the most common mental health condition in the United States, affecting over 40 million adults each year. While medication and therapy are important treatment options, what are the anxiety-busting foods you could add to your diet can also help reduce symptoms of anxiety?
Foods rich in magnesium, zinc, and omega-3 fatty acids have been shown to improve mood and promote relaxation. In this article, we will explore the science behind how certain foods can benefit mental health and provide delicious recipes to help fuel your body and calm your mind.
Table of Contents
The science behind anxiety- busting foods?
Research has shown that certain foods can benefit mental health by reducing symptoms of anxiety and depression. For example, foods rich in omega-3 fatty acids, such as salmon and walnuts, have been found to improve mood and decrease anxiety levels. Other foods high in antioxidants, such as berries and dark chocolate, can reduce inflammation in the brain and protect against oxidative stress, which is linked to depression and anxiety.
Additionally, foods rich in magnesium, zinc, and B vitamins have been found to have a calming effect on the nervous system and can reduce feelings of stress and anxiety. By incorporating these anxiety-busting foods into your diet, you can fuel your body and calm your mind, improving your overall mental health and well-being.
The gut-brain connection has been gaining attention in recent years as studies have shown that a healthy gut can lead to a healthier mind. The gut microbiome, which is made up of trillions of bacteria and other microorganisms in the digestive tract, plays a crucial role in regulating mood, stress, and anxiety levels. The foods we eat can either nourish or harm the gut microbiome, and in turn, affect our mental health.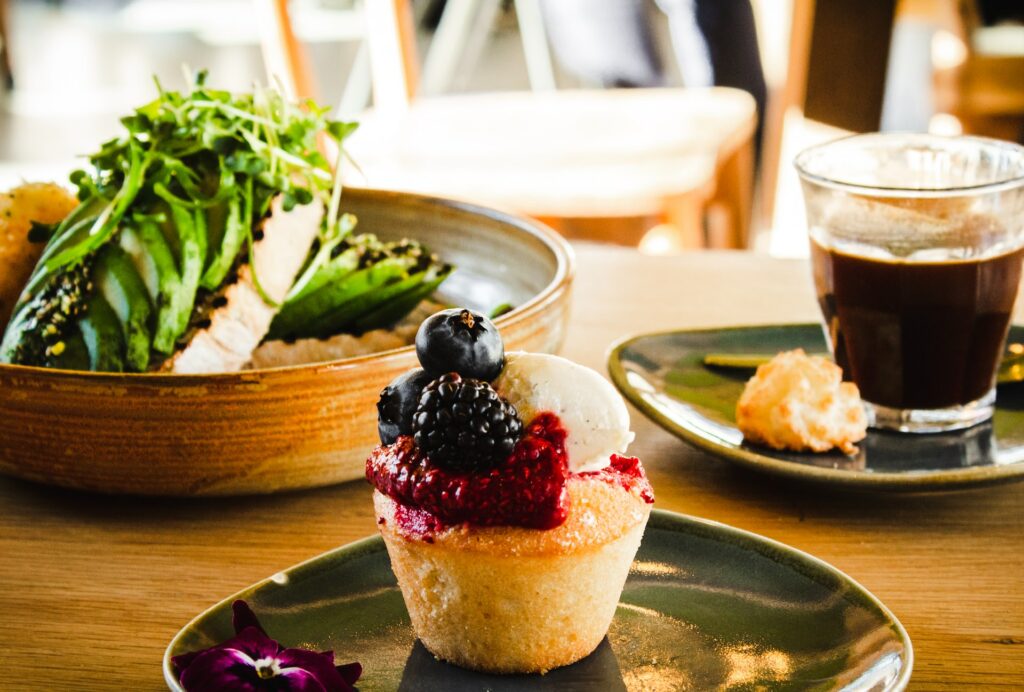 Foods that are high in fibre, such as whole grains, fruits, and vegetables, can promote the growth of beneficial bacteria in the gut. Probiotic-rich foods, such as yoghourt, kefir, and kimchi, can also help to boost the diversity of the gut microbiome. Meanwhile, highly processed and sugary foods can have a negative impact on gut health and contribute to anxiety and depression.
By making mindful choices about the foods we eat, we can not only fuel our bodies but also support our mental health. In the next section, we will explore specific anxiety-busting foods and recipes that you can incorporate into your diet.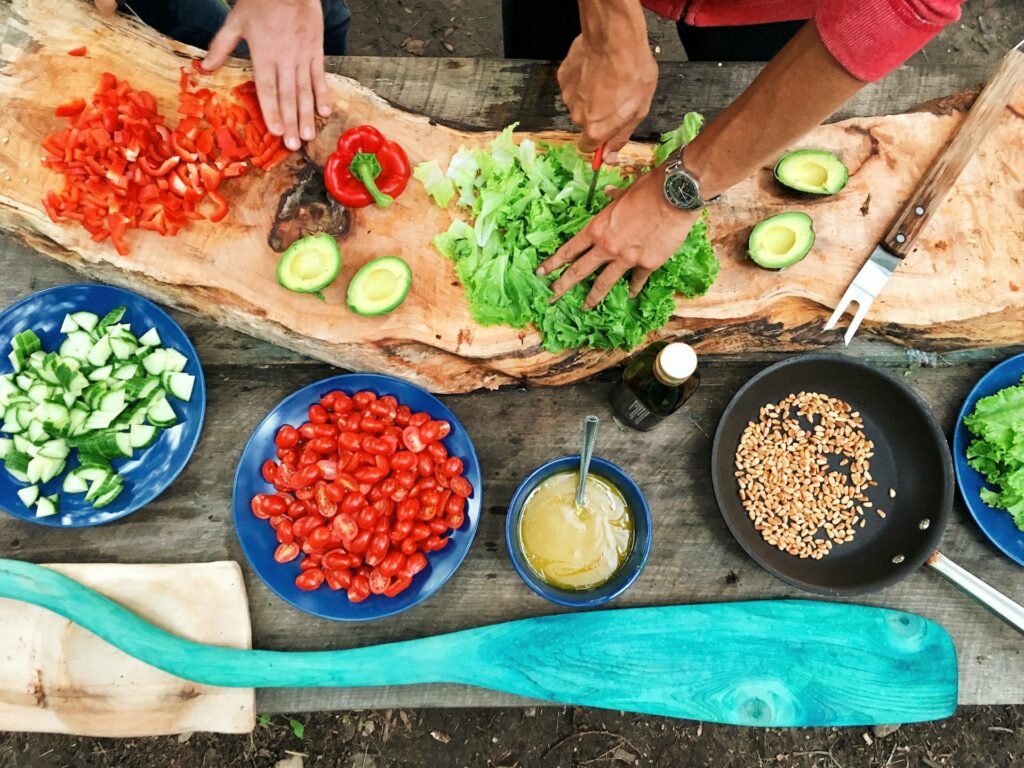 Anxiety- busting foods for your everyday life to support mental health
While there is no one-size-fits-all diet for reducing anxiety, there are certain foods that have been shown to have a calming effect on the body and mind. Here are some foods that may help to reduce anxiety:
Complex Carbohydrates: Complex carbohydrates such as whole grains, sweet potatoes, and beans can help to stabilise blood sugar levels and promote feelings of calm and relaxation.
Omega-3 Fatty Acids: Foods rich in omega-3 fatty acids, such as fatty fish (salmon, yellowtail, mackerel or sardines), flaxseed, and chia seeds, have been shown to help reduce anxiety symptoms.
Herbal Teas: Certain herbal teas, such as chamomile, lavender, and lemon balm, have a calming effect on the body and can help to reduce anxiety and promote relaxation.
Dark Chocolate: Dark chocolate contains antioxidants and compounds that have been shown to improve mood and reduce anxiety symptoms.
Fermented Foods: Fermented foods such as yoghurt, kimchi, and sauerkraut contain probiotics, which have been linked to reduced anxiety and improved mental health.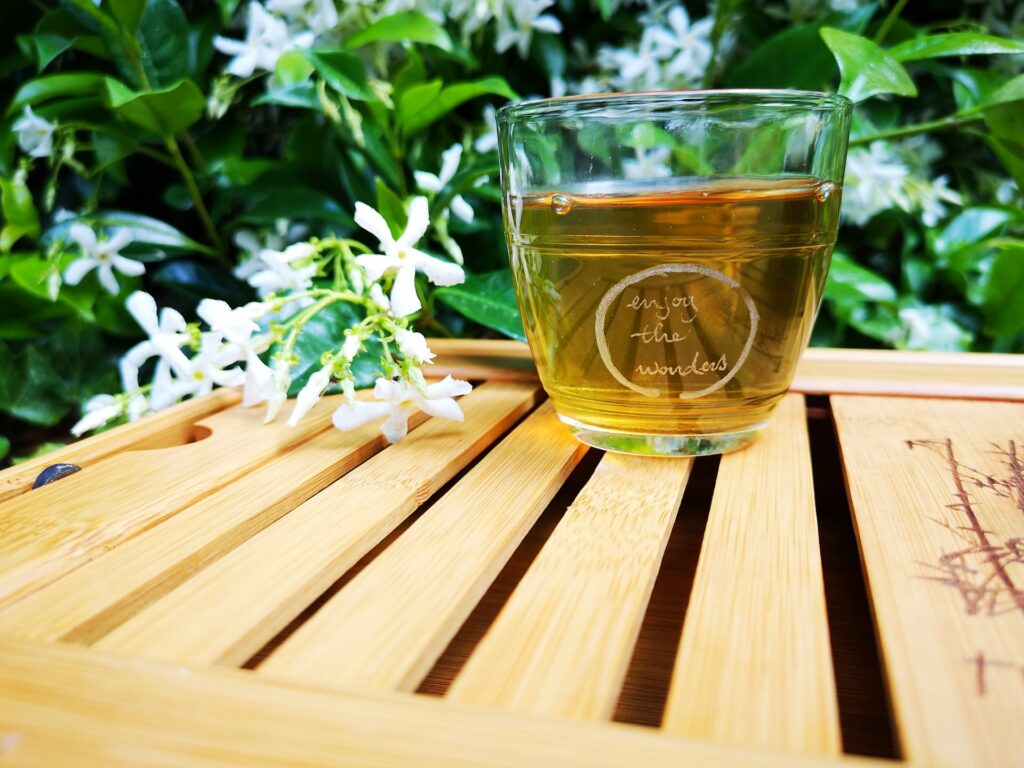 While these foods can help to reduce anxiety symptoms, it's important to remember that diet alone is not a substitute for professional treatment. If you are experiencing anxiety, it's important to seek help from a qualified mental health professional. They can work with you to develop a comprehensive treatment plan that addresses all aspects of your mental health, including diet and lifestyle factors.
Magnesium and zinc are also important nutrients that may help to reduce anxiety symptoms. Magnesium is a mineral that plays a key role in regulating the body's stress response and promoting relaxation. Foods naturally rich in magnesium may, therefore, help a person to feel calmer. Examples include leafy greens, such as spinach and Swiss chard. Other sources include legumes, nuts, seeds, and whole grains.
Zinc is another mineral that has been linked to lower anxiety levels. It is involved in many bodily processes, including the regulation of neurotransmitters and the immune system. Foods rich in zinc such as oysters, cashews, liver, beef, and egg yolks have been linked to lowered anxiety.
While these foods may help to reduce anxiety symptoms, it's important to note that they should be consumed as part of a balanced and varied diet. It's also important to consult with a healthcare professional before making any significant changes to your diet, particularly if you are taking any medications or have a medical condition.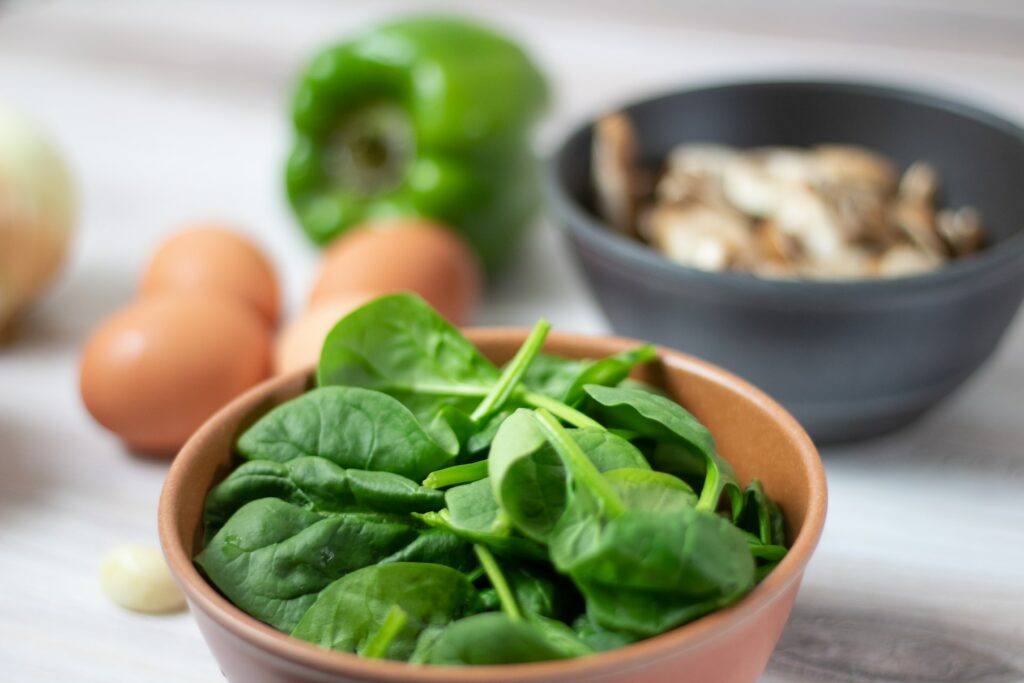 It's worth noting that while diet can play a role in reducing anxiety symptoms, it's not a cure-all solution. If you are experiencing anxiety, it's important to seek help from a mental health professional. They can provide you with the support and resources you need to manage your symptoms and improve your overall mental health.
If you're looking for recipe ideas to incorporate some of these anxiety-reducing foods into your diet, here are a few to try:
Spinach and feta omelette – Beat 2 eggs and add a handful of fresh spinach and crumbled feta cheese. Cook in a non-stick pan until the eggs are set.
This omelette is not only quick and easy to make, but it also has a lighter texture compared to the traditional omelette we're used to. And if you're watching your calorie intake, you'll be pleased to know that this recipe comes in at just 309 calories, making it a fantastic low-calorie breakfast option!
Quinoa and black bean salad – Cook 1 cup of quinoa according to package instructions. Rinse and drain a can of black beans and mix with the quinoa. Add diced tomatoes, diced red onion, chopped cilantro, and a dressing made from olive oil, lime juice, and cumin.
Beans and quinoa share many similar health benefits. Beans are rich in fibre and protein, which aid in digestion and help prevent heart disease, among other benefits. When consumed together, they make a powerful combination for promoting heart health, and are a great source of fibre and protein.
Cashew stir-fry – In a wok or large frying pan, sauté sliced chicken breast or tofu in sesame oil with sliced carrots, broccoli florets, and sliced bell peppers. Add a sauce made from low-sodium soy sauce, hoisin sauce, and honey. Top with chopped cashews before serving.
Roast cashews bring out their sweet and soft flavour, while also adding an irresistible crunch. Roasting cashews is a simple process that can easily elevate your cooking game with minimal effort required.
Baked salmon with sweet potato wedges – Place a salmon fillet on a sheet of foil and season with salt, pepper, and lemon juice. Bake in the oven at 400°F for 15-20 minutes. Cut a sweet potato into wedges and toss with olive oil, salt, and paprika. Roast in the oven alongside the salmon for 20-25 minutes.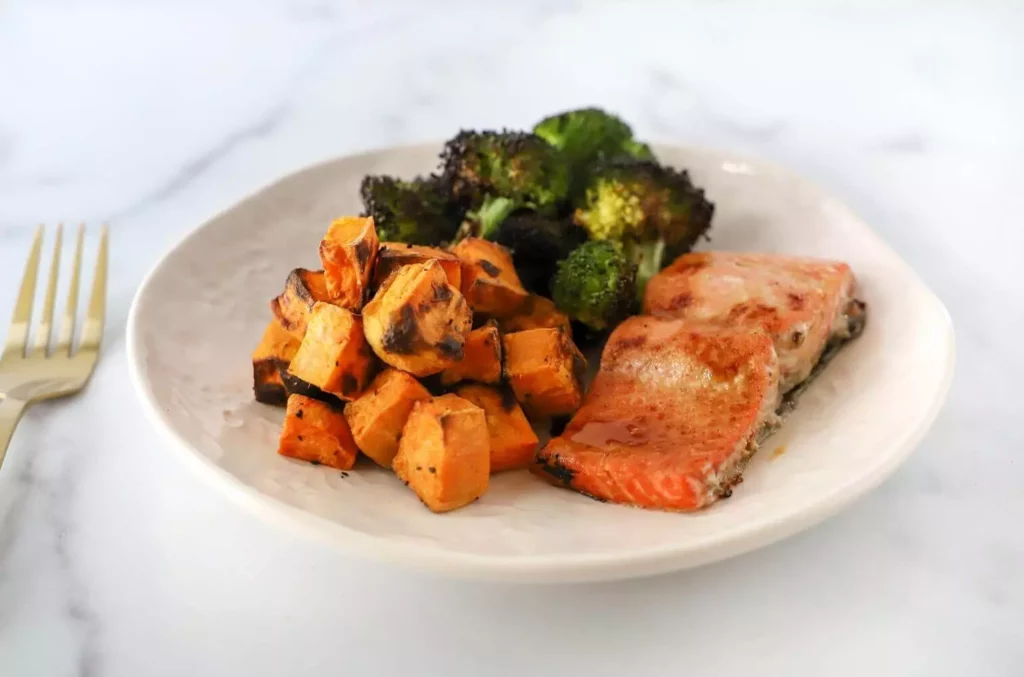 Remember, it's important to focus on a balanced and varied diet, rather than just one or two specific foods. Incorporating these anxiety-reducing foods into your meals can be a great way to support your mental health, but they should be part of a larger effort to maintain overall well-being.
Take away thoughts
Anxiety is a pervasive mental health issue in the United States, affecting a staggering 18% of the population, according to the National Institute of Mental Health. Furthermore, anxiety and depression often go hand in hand, with around 50% of people with depression also experiencing anxiety. Although specific therapies and medications can offer relief, only one-third of individuals with anxiety seek professional treatment.
It's crucial to explore every possible avenue for treating anxiety, and that includes the role of diet. While healthy eating habits like a balanced diet, hydration, and reducing alcohol and caffeine intake are important, there are many other dietary considerations that can help alleviate anxiety. For instance, consuming complex carbohydrates is an effective way to maintain a stable blood sugar level, which in turn promotes a calmer state of mind.