Since 1066, Westminster Abbey has been the epicentre of coronations, witnessing every English and British monarch's crowning moment (with the exception of Edward V and Edward VIII). The coronation ceremony is steeped in tradition, a medley of customs and rituals that have prevailed across the centuries. This event encapsulates the grandeur and majesty of the British monarchy. Unlike any other coronation, we all have the chance to own a piece of history: King Charles III Coronation's scarf, a breath-taking tapestry that tells a story , forever capturing the essence of time itself.
In a world where trends come and go, Rory Hutton's unique ability to draw inspiration from pages of history and translate that into captivating designs sets him apart. Through his work, he helps us celebrate historic moments and personalities allowing future generations to experience their unique magic in a truly unique way.
Drawing inspiration from an array of sources, the designer crafted the King Charles III Coronation Scarf. The oak leaves and birds adorning the coronation chair, the Abbey's medieval tiles, and the heraldic animals and plants symbolizing the four nations of the United Kingdom informed the intricate design. Employing the linocut printing technique, the designer sought to capture the essence of this historic occasion.
With a keen eye for detail and an undeniable passion for the stories that have shaped our world, Rory brings to life the essence of these historic figures and moments, infusing their spirit into the vibrant fabric of his luxurious silk scarves. His designs pay homage to the grandeur of the past while remaining undeniably contemporary, a testament to his ability to bridge the gap between history and present times.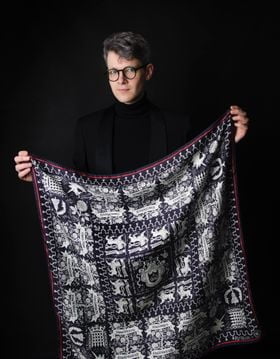 Rory, a master of capturing history through threads of silk, embarked on an odyssey of research and discovery. He delved into the rich tapestry of the British history, unravelling the intricate details of the coronation chair, oak leaves, and martlets for the Westminster Abbey scarf. His vision brought forth a harmonious blend of the past and the present, weaving the four nations' symbolic animals and flowers into a mesmerizing dance of unity.
As if guided by the muses themselves, Rory's unique talent allows him to create timeless pieces that capture the imagination and hearts of those who appreciate the beauty of art and the significance of history. Each scarf becomes a wearable work of art, a tangible connection to the past that serves as a reminder of the indelible mark left by these icons and historic events on the collective human experience.
Rory Hutton possesses a unique talent, one that marries the past and present in a harmonious union of art and history. Drawing from the wellspring of inspiration provided by historic icons like Shakespeare, the undisputed king of poetry, and momentous events such as the King Charles Coronation, Rory weaves a rich tapestry of emotion, symbolism, and elegance into his creations.
He follows his instincts, carefully selecting symbols and objects that resonate both with the story and his own artistic sensibilities. This delicate balance ensures that each piece is a true reflection of his distinctive style and an heirloom accessory to be cherished for generations.
Commissioned to design the King Charles III Coronation scarves for three prestigious institutions – Westminster Abbey, Highgrove, and The National Portrait Gallery Rory created the silk scarf in a vintage-style colour palette of red, off-white, and blue, with borders emblazoned with the names of the King and Queen, as well as the coronation date. This scarf serves as a perfect accessory for those attending the coronation ceremony or anyone wishing to commemorate this historic moment in style. It stands as a timeless and elegant accessory to be treasured for years to come.
At the very moment when Rory received the news, he found himself on holiday, gazing at the majestic stones of the Parthenon. As if the Parthenon itself whispered its tales, Rory marvelled at how it had stood the test of time, weaving the threads of history and art together in a timeless tapestry. For Rory, these ancient stones were not just relics of the past but the very essence of his creativity, fuelling his passion for bringing history to life in his designs.
"The most dramatic was Highgrove, they called me while I was on holiday in Greece, I was in Athens at the time looking up at the Parthenon which made this a particularly unforgettable moment!"
The design for the Westminster Abbey King Charles III Coronation scarf includes various historical elements such as oak leaves, birds, and heraldic symbols.
"It is wonderful working with institutions that have so much history, there is sometimes too much inspiration! The team at the Abbey are great and are always happy to help me identify the most important symbols. We have worked on several scarves together including one for the Queen's Platinum Jubilee last year so we have developed a great working relationship, for this scarf we wanted to reference the coronation chair, this was originally decorated with oak leaves and martlets, fragments of which still survive, the heraldic animals and flowers symbolise the four nations which make up the United Kingdom."
The Highgrove scarf incorporates motifs from the royal grounds at Highgrove, including delphiniums, ferns, and topiaries that embody King Charles III's passion for nature. Rory's design captured the essence of the gardens, paying homage to His Majesty's dedication to natural beauty.
"The King's interest in gardens and organic gardening methods is widely known and the gardens at Highgrove are distinctly personal. I wanted to create a design that celebrated His Majesty's love of nature. The gardens at Highgrove are celebrated for their delphiniums, ferns and topiaries, I felt these best summed up the essence of the garden."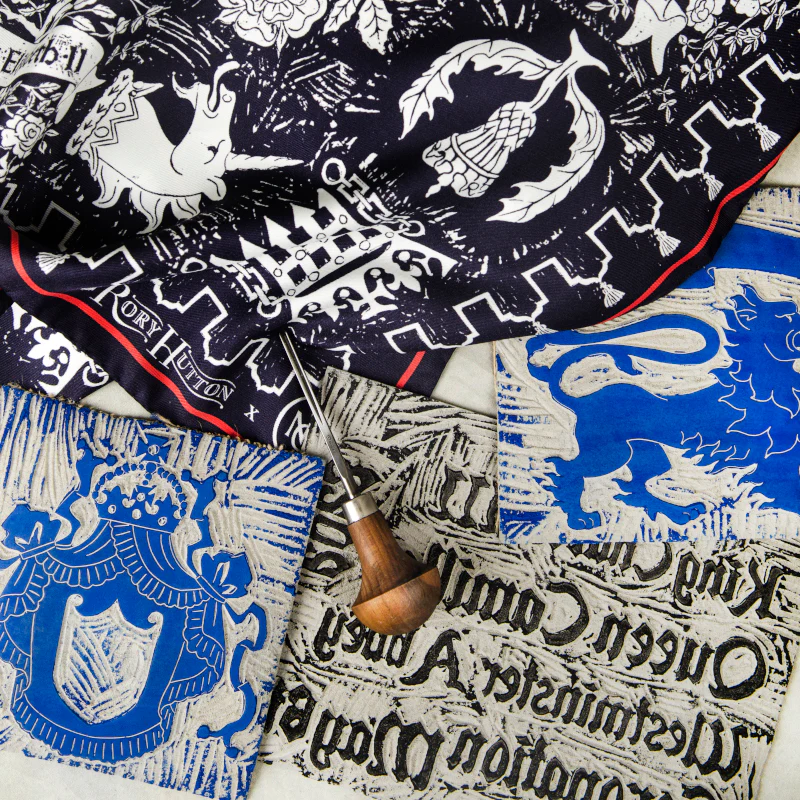 Rory Hutton's signature linocut illustrations and luxurious silk materials have become synonymous with his brand. He shared the insight into the creative process when designing commemorative scarves like these, and how he ensured that each piece embodies his signature style.
"I think the important thing is never to overthink it, I usually get a strong instinct about what I want to do early on and I try not to do too much research as you can only get so much on a scarf. Sometimes I will ask a curator or buyer what 5-6 objects are most important to the story in their opinion, using these as a basis I can then fill in the design with things that appeal to me aesthetically! Designing a commemorative scarf always feels like a big responsibility and its important to get it correct."
Inspired by the rich history of Westminster Abbey and the coronation ceremony, the scarf captures the spirit of this historic moment. It is an accessory that is not only stylish but also meaningful, representing a significant moment in British history.
"The materials and manufacturing are sourced in Italy; all my silk scarves are made by a small family run atelier there. Quality is of paramount importance, for me this is in the details, I like a silk scarf to have good colour saturation from front to back and rolled edges are an absolute must! Quality craftsmanship combined with a great story make a beautiful scarf. I aim to create heirloom accessories that can be collected and handed down."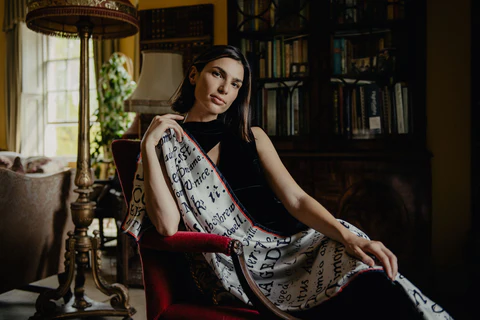 As an artist who has worked alongside some of the UK's most beloved cultural and heritage institutions, Rory holds a deep reverence for the history he curates. Whether designing anniversary scarves for historic moments or icons, Rory seeks meaningful authenticity, hoping that his creations do justice to their extraordinary lives. When asked what have been his most memorable experiences, and how do these collaborations shape and influence his work as a whole, Rory told us:
"The projects that are most special to me are the ones that commemorate great or interesting figures from history. It is a privilege to have the opportunity of interpreting their legacies for a new era, this is also a big responsibility as I always want to do them justice, I hope they smile down on me and approve!
I have designed anniversary scarves for Madame de Pompadour, Margot Fonteyn, Noel Coward and many others. They are all unique and special in their own way. The opportunities to meet and learn from curators, trustees, authors and passionate individuals make these project particularly colourful and fun. Occasionally I have even been given special access to objects or rooms not usually open to the public and this is very exciting!"
When asked what's next for his brand, Rory Hutton said:
"I am working on something a little bit different at the moment with an interiors company called Nara Cambridge, this will hopefully launch in the coming months and I have just started an exciting project with the British Museum but I can't reveal that until next year!"
Though he may not be attending the Coronation in person, Rory's presence will undoubtedly be felt through the magnificent scarves that will grace the occasion. As the world watches this historic moment unfold, the legacy of Rory Hutton, the modern-day Icarus, will take flight, immortalized in the silk threads that bind history, art, and beauty together.
"I am looking forward to watching it on television and I'm sure I will wear one of these scarves on the day, perhaps I will even do three costume changes and give them all an outing!"
Rory Hutton, a masterful custodian who breathes life into the whispers of history, is seamlessly melding the past with the present. His creations stand as a vibrant bridge, connecting the echoes of history to the contemporary world, allowing us to revel in the beauty of bygone eras while immortalizing their splendour for generations to come.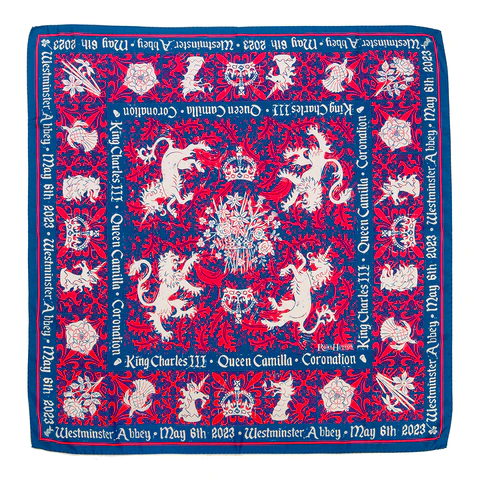 About Rory Hutton: In the span of a mere decade, Rory Hutton has risen like a phoenix, leaving an indelible mark on the world of art and fashion. This award-winning Cambridge-based artist, printmaker, and historian has emerged as a luminary, blending his passion for architecture, theatre, opera, and dance with his creative flair he breaths new life into historical themes.
With each commission, Rory fearlessly explores the depths of inspiration, capturing the essence of momentous events and immortalizing the allure of legendary figures like Shakespeare, Louis XIV, and Queen Elizabeth I. His ability to reinterpret the past with a contemporary twist has made his work highly sought after, adorning the stages of the National Theatre, Royal Opera House, Westminster Abbey, and British Museum.
Rory's talent and dedication have led him to design over 100 silk scarves for the UK's most prestigious arts and heritage institutions, such as the Royal Opera House, The Royal Collection, British Museum, Westminster Abbey, and Victoria & Albert Museum. Transforming the art of scarf-making, he is crafting magnificent luxury silk scarves adorned with exuberant linocuts and bold block designs.
Rory Hutton's meteoric rise is a testament to his unparalleled talent, relentless pursuit of beauty, and unwavering commitment to excellence. As a visionary artist who has already achieved so much in such a short time, Rory continues to push the boundaries of creativity, leaving a lasting legacy that will inspire generations to come.
To bring his vision to life, Rory collaborates with a small family-run atelier in Italy, ensuring that each scarf is crafted with the utmost care and precision. The provenance of the silk, the colour saturation, and the meticulously rolled edges all contribute to the allure of these commemorative masterpieces.
Looking ahead, Rory's creative spirit continues to soar. He is currently collaborating with Nara Cambridge on an interiors project and has embarked on an enigmatic endeavour with the British Museum, the details of which remain shrouded in mystery…for now.