There are big expectations when you plan your Big Day, which go way beyond your capsule wardrobe, to become your time capsule. Walking on the aisle is a love commitment and Luxury Bridal trends are inspired by royalty and romance. Surviving the pandemic comes with fresh ivory interpretations and a brave sparkling forward-thinking. Now is the time to re-imagine your Big day!
I am travelling to Scotland to meet Luxury Bridalwear Royalty, Joyce Young, international renowned Designer, specialising in wedding dresses and outfits created not only for occasion wear, but which will stand the test of time and be something to not only treasure, but wear year in year out.
Dress shabbily and they remember the dress; dress impeccably and they remember the woman

Coco Chanel
Latest collections and trends
While talking with Joyce, in the background is Janice Wallace who has modeled since her mother started to work with Joyce back in 1993. This beautiful fit, is the newer style that actually isn't on the website yet because COVID came along and the studio didn't have a photo shoot. The dress is classic and simple, with the cape built into the dress. If you want the studio can add little clips at the neck line and it looks integrated and then can come off in the evening.
Joyce carries on this ethos with her designs – everything flowing effortlessly together from the hat or hair piece down to the shoes.
We talk about her new signature collection, which goes back to her roots of cruise wear and is heaven to any woman of a certain age who wants to look elegant and current, whilst the lumps and bumps of age are flattened, but I also wanted to know her thoughts on that thorny question of dressing for weddings particularly for the mother of the bride or groom. Afterall there is a lot to consider and choosing the right jewellery to complement the outfit is just one aspect to keep in mind.
I was fascinated talking to her and could have stayed talking all day – I hope you enjoy Joyce's story as much as we did!
If you thought that Joyce Young Collections only designs your dress for the "big day" think again!
Joyce has designed for many people and treats every client as royalty for the Big Day. And if the love of your life is politics, you are in good hands! Pam Gosal MSP, the first Indian woman in Scottish Parliament is getting "engaged" today to her love for the people of the West of Scotland, wearing the most beautiful Joyce Young "engagement" fit!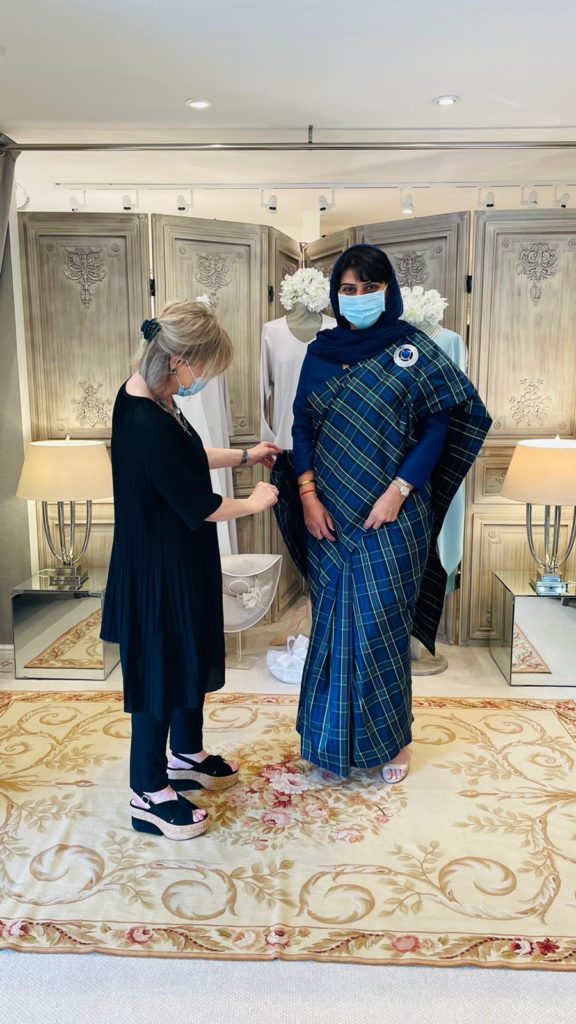 Pam Gosal tweeted: "It's a privilege to be the first female MSP elected to the Scottish Parliament from an Indian background. Thank you to everyone who's supported me. Can't wait to get to work for the people of the West of Scotland." Congratulations, Pam!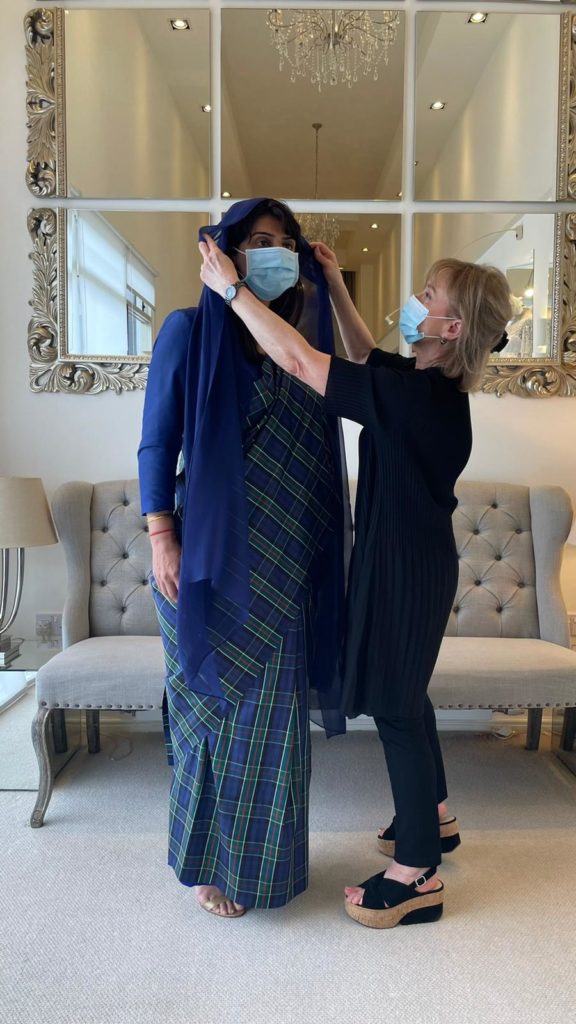 Another Coco Chanel quote comes into mind – Simplicity is the keynote of all true elegance – this sums of Joyce Young designs beautifully.