Merkaba, a wellness real estate marvel, inspired by the balance of light, spirit, and body, embodies the perfect fusion of architectural ingenuity, sustainability, and luxury. Spanning over 85 acres, the estate boasts a 5,614 square-foot main residence inspired by Frank Lloyd Wright's iconic Guggenheim Museum. The interior is a testament to artful serenity, featuring natural materials and curves that seamlessly blend together.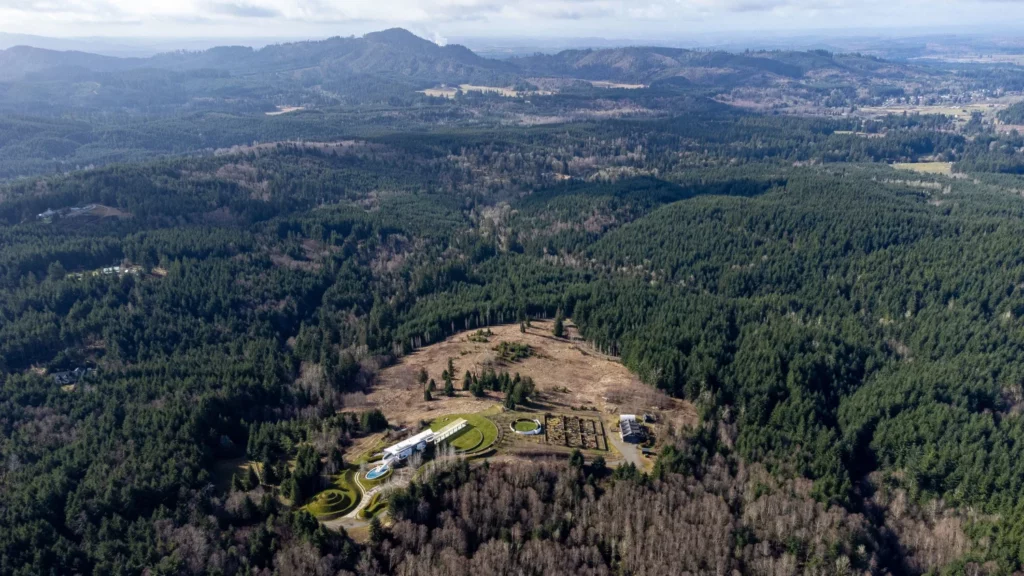 Step into a world of luxury, sustainability, and architectural brilliance as De Beers Diamond heiress puts up her Merkaba estate for auction, offering a rare opportunity to own an unparalleled property.
De Beers Diamond Heiress offers Merkaba to the market
Rebecca Oppenheimer, heiresse to the De Beers diamond fortune, the company behind the iconic 'Diamonds are Forever' slogan, and a major player in the global diamond supply for decades, is selling her 80-acre self-sustaining property in Tenino, Washington. Named Merkaba, the estate's design takes inspiration from the Garden of Cosmic Speculation in Scotland, which celebrates science and mathematics. Symbolizing positive energy, harmony, and balance, the Merkaba estate is now on the market awaiting for the best bid.
Rebecca is the granddaughter of Harry Oppenheimer, the former De Beers Chairman whose family managed the majority of the company from 1926 until 2011 when they sold their stake for over $5 billion. Today, De Beers operates in 35 countries, with mines in South Africa and Canada, exploration and marketing initiatives worldwide, and even ventures into lab-created diamonds. Despite increased competition, De Beers still claims 35% of the global diamond industry.
Although Rebecca grew up in lavish mansions and could choose any home or location she desired, she opted for a more spiritual approach when designing her own residence. She and her husband purchased the property in 2003 and spent three years renovating it, tasking her South African architect to create a design that combined the essence of the Guggenheim Museum and a UFO. The estate includes a saltwater pool, chicken coop, honeybee sanctuary, barn with three extra bedrooms, and a greenhouse. During the renovation, Oppenheimer and her husband lived in the barn, where their children were born.
The 8,462-square-foot main house is a masterpiece of curves and circles, featuring custom furniture tailored to the unique spaces. The unadorned, curved walls exude a sense of tranquility that extends throughout the sculpted landscape. The estate boasts six bedrooms and five bathrooms, along with living and dining rooms, a spacious kitchen, music room/library, media room, family room, and several vine-covered and open terraces for dining, entertaining, or taking in the picturesque views.
The grounds showcase a captivating free-form swimming pool at the entrance, a glass-enclosed, saltwater lap pool with retractable walls, and a meticulously designed flower, herb, and vegetable garden for leisurely strolls among the blossoms. A personal beekeeper is on hand to care for the honeybees. Powered by generators, solar, and geothermal systems, Merkaba is a completely self-sustaining property.
With plans to return to South Africa with her children following her divorce, Oppenheimer can no longer spend as much time in the U.S., and has listed Merkaba for sale. Michael Morrison of Morrison House Sotheby's International Realty in Gig Harbor, Washington, is the listing agent.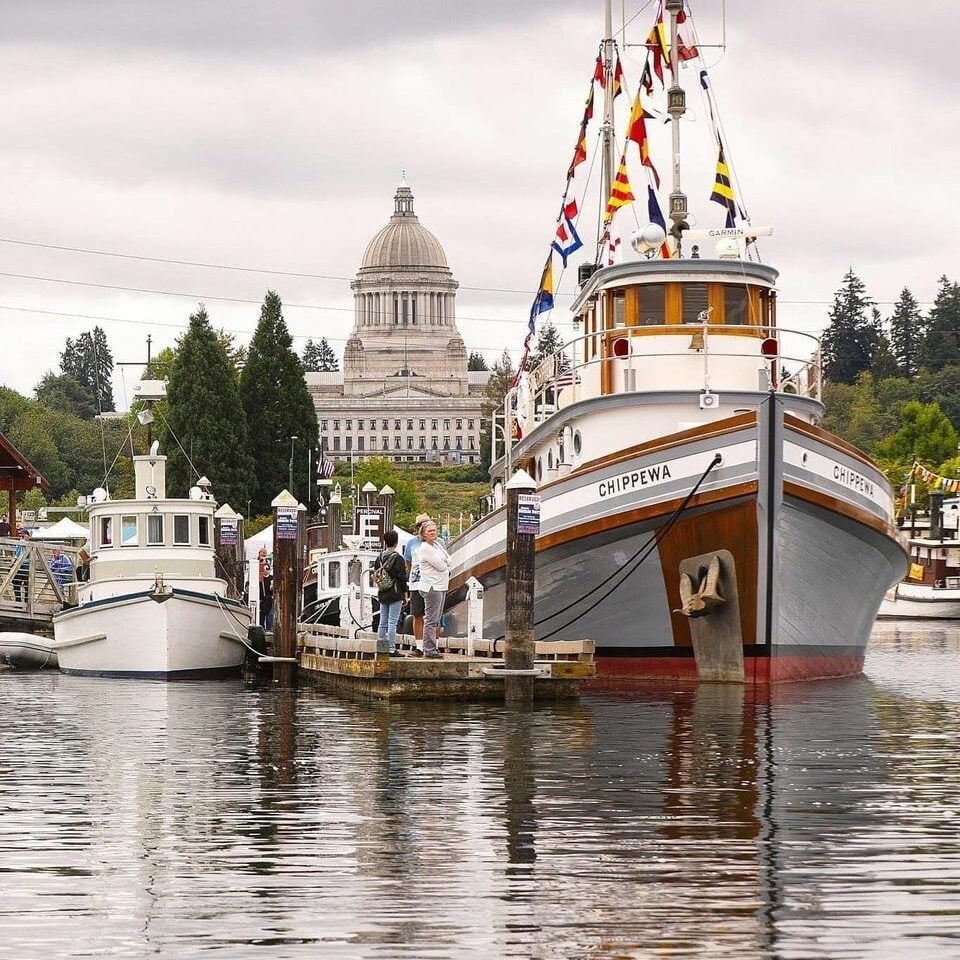 Diamonds are forever-and this real estate marvel could be yours
In the midst of Washington's breath-taking natural beauty lies an architectural marvel owned by the heiress of the De Beers diamond empire. This wellness real estate marvel is set to be auctioned this month through Morrison House Sotheby's International Realty, with a listing price of $5.95 million and a $1.5 million reserve. Bidders worldwide will have the opportunity to vie for this one-of-a-kind property during the auction, held on conciergeauctions.com from 20–27 April.
The Merkaba estate, named after a sacred geometric symbol representing the harmony of light, spirit, and body, is a unique and serene property spanning over 85 acres with breathtaking views of Mount Rainier National Park. The estate's striking and fluid architecture is reminiscent of Frank Lloyd Wright's iconic Guggenheim Museum, seamlessly blending luxury with natural materials and elegant curves throughout its walls and custom furnishings.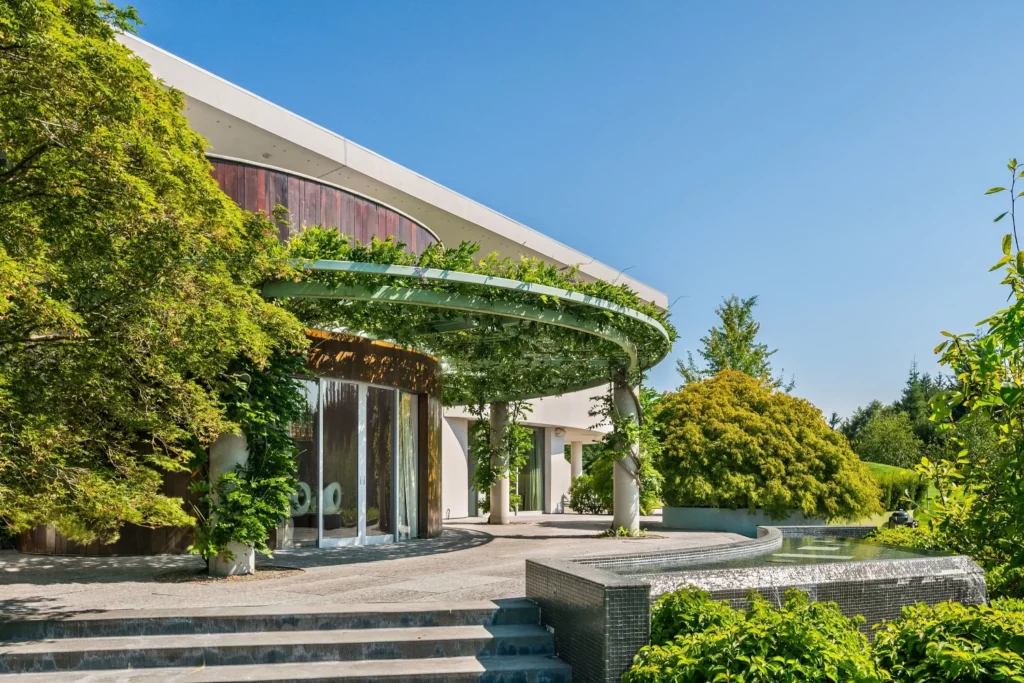 Designed for off-the-grid living, this exceptional property combines sustainability with exquisite design, relying on solar and geothermal systems for daily energy needs. The estate is not only self-sufficient but also offers an abundance of natural beauty with its gardens, fruit orchards, and chicken coops.
Merkaba is a haven for those seeking solace in nature, away from the hustle and bustle of city life. At the same time, it is a perfect venue for entertaining, featuring retractable interior walls that can easily accommodate large gatherings. The saltwater pool and wraparound patios provide stunning views of the sculpture garden and the estate's pristine surroundings.
For the comfort of your guests, a separate three-bedroom guesthouse is nestled at the far end of the gardens, offering privacy and tranquillity. The Merkaba estate is a true testament to the harmonious balance between luxurious living, sustainable design, and an intimate connection to nature.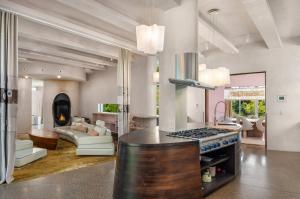 This sustainable estate is designed for off-the-grid living, powered by solar and geothermal systems, while offering home-grown sustenance through gardens, fruit orchards, and chicken coops. Entertaining guests is a delight with retractable interior walls, a saltwater pool, and wraparound patios, all offering stunning views of the sculpture garden and surrounding landscape. A separate 1,700 square-foot, three-bedroom guesthouse ensures privacy for friends and family.
Additional luxurious features of Merkaba include multiple fireplaces, designer appliances, a copper-lined meditation room, home theater, and library/office. Outdoor amenities extend to an archery range, rose garden, orchard, and a terraced landscape inspired by a Scottish sculpture garden. The property also offers a double-gated entrance and its own heliport, providing easy access to nearby Olympia, Tacoma, Seattle, and Mount Rainier National Park.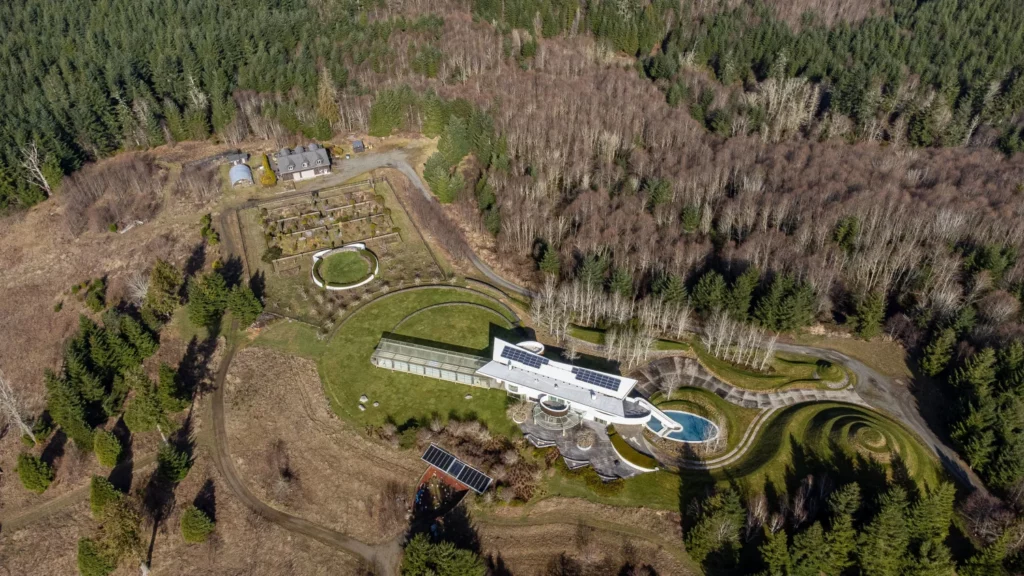 Move in by Tenino's 150th Jubilee
Nestled near the charming town of Tenino, Merkaba is surrounded by the Pacific Northwest's awe-inspiring beauty, with Mount Rainier as a constant backdrop. The Monarch Contemporary Sculpture Park and Art Center is a mere five miles away, while the region offers ample opportunities for outdoor exploration, art, and cultural events.
The Merkaba estate is open for showings from Friday to Sunday, 1–4 PM, and by appointment, with private virtual showings also available. The auction's closing will contribute to Sotheby's Concierge Auctions' Key for Key® giving program in partnership with Giveback Homes, providing a new home for a family in need.
Don't miss this once-in-a-lifetime opportunity to own a stunning piece of architectural history, nestled in the heart of Washington's picturesque landscape. Bid on the awe-inspiring Merkaba estate and experience the perfect balance of luxury, sustainability, and architectural brilliance.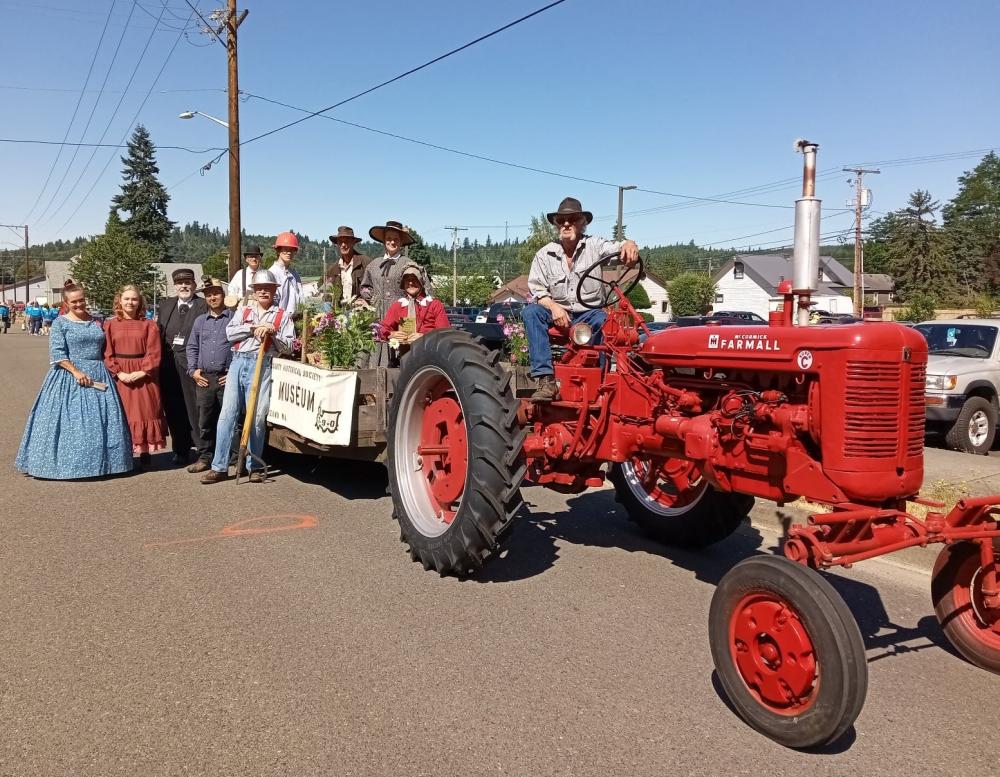 Discover the enchanting town of Tenino, nestled just 30 minutes from Olympia and a mere hour from the majestic Mount Rainier National Park. This charming community, steeped in history, features a picturesque downtown area listed on the National Historic Register, vibrant arts and cultural events, a delightful farmer's market, and so much more.
Embrace the iconic Pacific Northwest as your backyard, with breathtaking vistas of lush forests and the awe-inspiring Mount Rainier dominating the horizon. Outdoor enthusiasts will relish the abundant trails and two nearby lakes, offering a plethora of opportunities for adventure and exploration.
Just five miles from your estate, you'll find the Monarch Contemporary Sculpture Park and Art Center, a public art space showcasing remarkable works that complement your property's sculpture garden, inspired by the renowned Garden of Cosmic Speculation in Scotland.
When the allure of Seattle beckons, rest assured that the city's vibrant attractions are less than two hours away by car or a quick flight from your personal heliport. The perfect fusion of idyllic small-town charm and easy access to urban excitement, Tenino offers a truly unparalleled lifestyle in the heart of the Pacific Northwest. Tenino will be celebrating it's 150th Jubilee July 8, 2023 at the Tenino City Park, right on time to get the keys to your sanctuary.
Ready for the big move? Share your real estate masterpiece and inspire the world – submit your story for a chance to be featured in Rich Woman Magazine!