In recent years, there has been a unique cultural renaissance in the form of the remarkable resurgence of handmade crafts by women artisans around the world. This revival of traditional craftsmanship has not only breathed new life into the centuries-old techniques; not only renewed our deep appreciation and respect for the precious artisans who still practice it; but has also contributed significantly to the conservation and evolution of the cultural heritage and traditions.
This article explores the resurgence of handmade crafts, focusing on the integral involvement of women artisans, and the support of organizations such as UNESCO and others big and small, in preserving and promoting these invaluable traditions.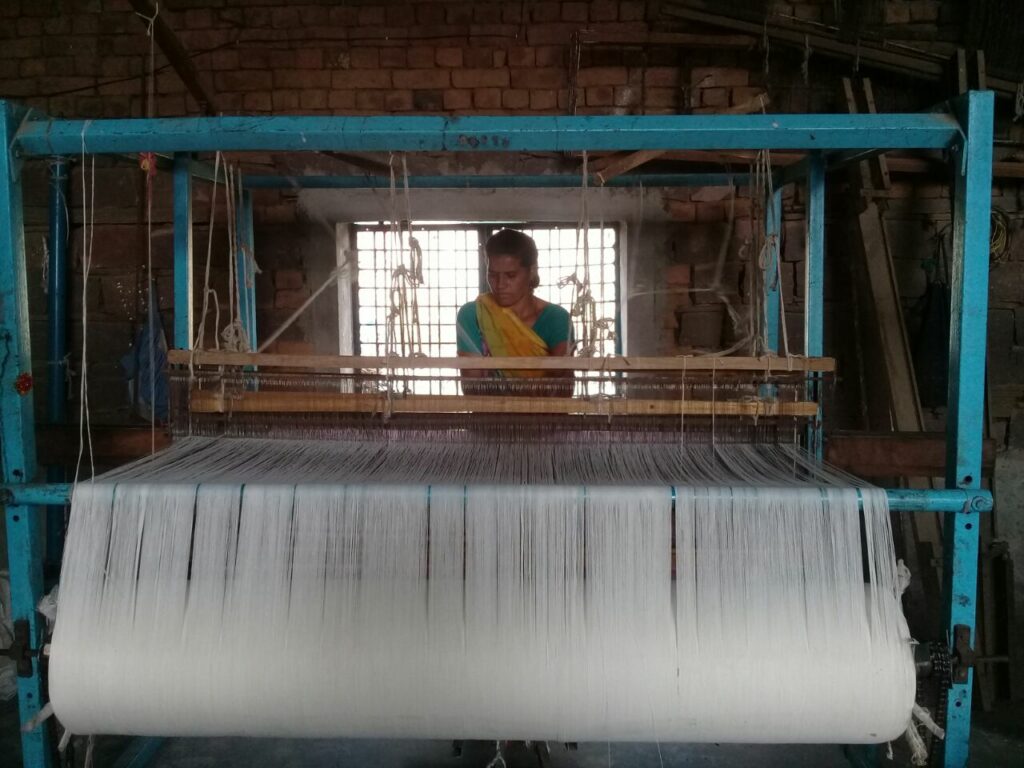 The Craft Renaissance: A Global Trend
The craft renaissance is a global phenomenon, reflecting a growing desire for authenticity and sustainability in an increasingly mass-produced, instant gratification, use-and-throw culture.
Handmade products possess a unique charm and character. Every time we take our time and lovingly create something beautiful from scratch, we are bringing back the soul into art. We are celebrating the imperfections and randomness of our lives and coming up with something unique and original. This is something that cannot be replicated by a machine.
This authenticity appeals to consumers who seek products with a story, a connection to the past, and at the same time, a smaller environmental footprint.
Statistics from various regions around the world confirm the resurgence of handmade crafts:
Economic Impact: Handmade crafts have become a significant contributor to local and national economies. According to the American Craft Council, the craft industry in the United States alone generates approximately $44 billion in annual sales. This trend is mirrored in many other countries, with local artisans becoming important contributors to their communities.
Women at the Forefront: Women artisans have played a crucial role in the craft movement. In numerous cultures, traditional crafts have historically been the domain of women.
Women´s Touch: Today, women continue to be the driving force behind handmade products. Organisations like the World Crafts Council estimate that women make up over 70% of the global artisan workforce.
Cultural Preservation: Handmade crafts are often deeply rooted in cultural traditions. UNESCO recognizes the significance of these traditions in preserving cultural heritage. According to UNESCO, "traditional craftsmanship constitutes a cultural heritage that must be preserved and passed on to future generations." Craftsmanship is thus seen as a means to conserve cultural diversity and foster intercultural dialogue.
Supporting Women Artisans: UNESCO recognizes the contribution of women artisans in preserving cultural heritage and traditions. Empowering women in craft industries not only helps preserve heritage but also contributes to gender equality and economic development.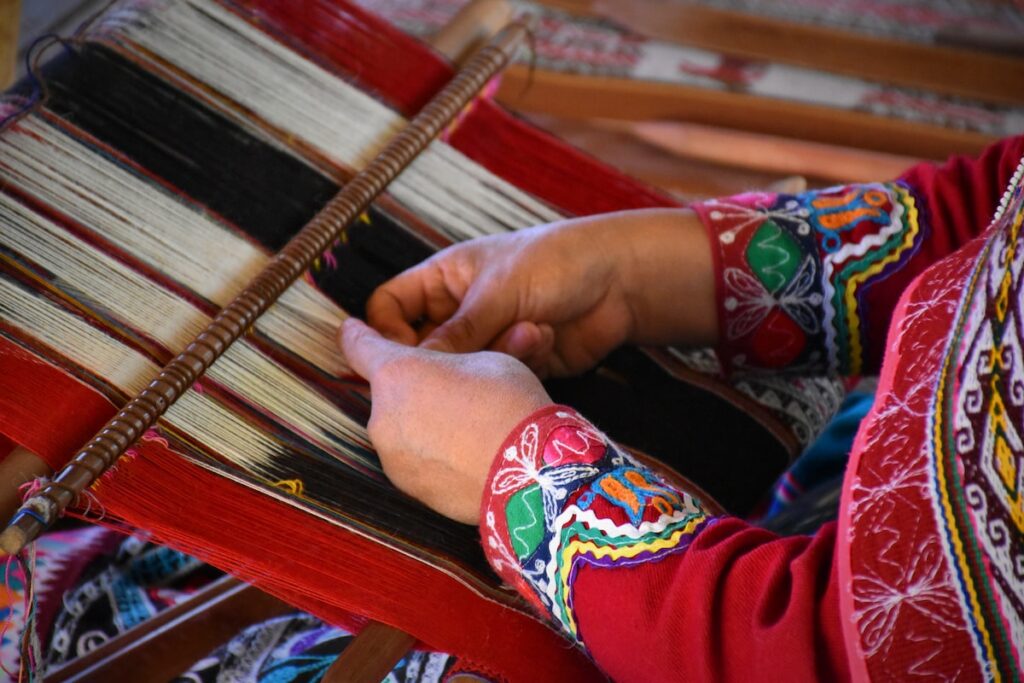 When Women Take Up A Task, Conservation Follows
Women have traditionally played the role of conservationists, be it unofficially in their family environment or officially in the working world. While talking about the role of women in environmental conservation, co-authors Dr. Isha Gunwal and Dr. Payal Mago, from the University of Delhi, India, pen that women are prone to gravitate towards sustainable use of the environment in whatever task they undertake, because of their closeness to nature.
· Women And Nature: From Hand To Handmade: Traditionally women have been involved in household activities such as gathering food, water, fodder and fuel, which enhance their knowledge of the environment, thus enabling them to implement the appropriate conservation practices and technologies.
· Feminism Reimagined: Since the 1970s, there has been a silent, yet powerful form of feminism developing in the west, with just the right blend of arts and crafts, environmental awareness and gender equality. As organizations like AWARE (Archives Of Women Artists Research & Exhibitions) and others will remind us, time and again, women have galvanized the art scenario with their unique individualism combined with a strong community spirit. Words like ¨Eco-Art, Earth-Art and Leaf-Art have seamlessly planted themselves into our vocabulary.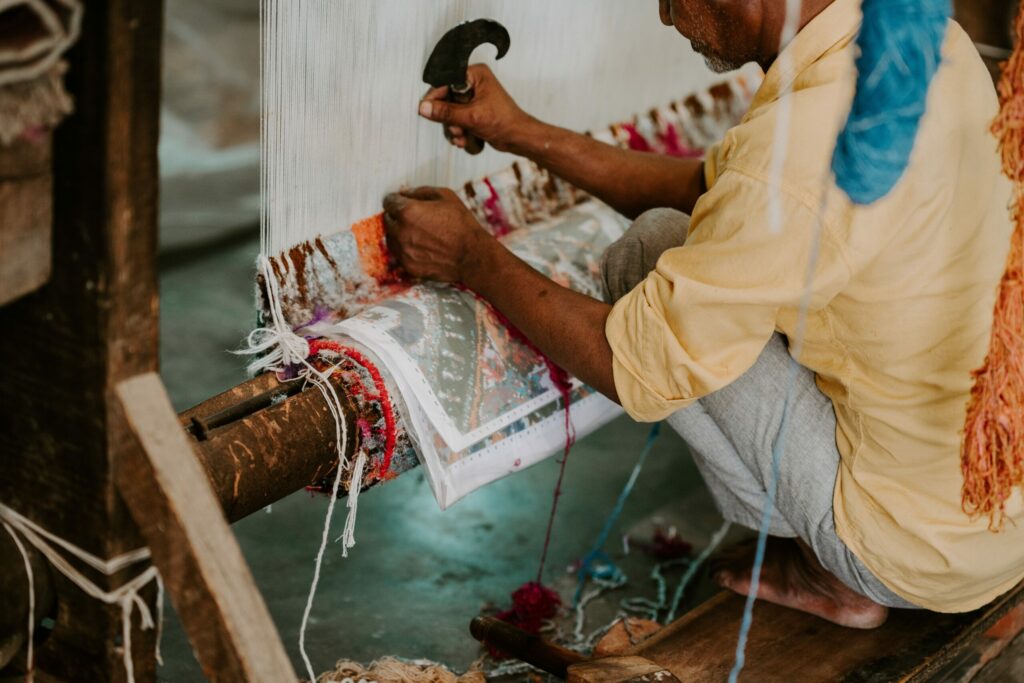 From Preserving Our Heritage To Passing Down Our Inheritance
Heritage crafts hold a profound significance in our lives, going beyond their utilitarian aspects. These crafts are more than just functional objects; they embody memories, mark essential life landmarks, and convey elements of our identity. As we use and live with heritage crafts, they become a tangible representation of the passage of time and the enduring connection between tradition and modernity.
Preserving Memories: Heritage crafts are repositories of memories. They are often passed down through generations, carrying with them the stories and experiences of those who used them before us. Whether it's a handmade quilt, a piece of hand-painted pottery, or a family heirloom, these objects serve as tangible links to our past and help us connect with our roots.
Marking Life Landmarks: Heritage crafts play a significant role in marking important life events and milestones. From birth to marriage, from celebrations to mourning, specific crafts are associated with these moments. For example, a handmade cradle may be used for generations to cradle newborns, and a handcrafted wedding ring symbolizes the eternal bond of marriage. These crafts carry the weight of tradition and symbolism, making them integral to our life journeys.
Expressions of Identity: Heritage crafts are a reflection of who we are and where we come from. They showcase the unique cultural and artistic traditions of a region or community. In a world that is increasingly globalized, these crafts help individuals and communities maintain a sense of identity and pride in their heritage. They serve as a visual language, expressing the values, beliefs, and aesthetics of a particular culture.
Passing Down Tradition: Heritage crafts are a means of passing down tradition and knowledge from one generation to the next. The skills required to create these crafts are often learned through apprenticeships or within families. By practicing and preserving these crafts, we ensure that the expertise and craftsmanship are not lost to time. This continuity is essential for maintaining cultural diversity and richness.
Witnesses to Time: Heritage crafts evolve and change over the years. As they age, they bear the marks of time, becoming witnesses to history. The wear and tear, repairs, and modifications that these objects undergo tell a story of their own. They become artefacts that historians and archaeologists can study to understand the past, as well as the evolution of craftsmanship and design.
Building For The Future On The Firm Foundation
As someone who has come into the artisan world with a professional training and career in architecture and design that shifted overnight into photography, art and fashion; someone who converts her leaf-art into handmade sustainable silk scarves; I certainly would not consider myself as a traditional artisan.
However, I know that I fit comfortably in this current unconventional art environment that is constantly being renamed, redefined and reimagined, every moment of our lives. All this, with the strong foundation laid through the centuries, without which our current stage would not be possible.
Today, creativity in art, has infinite possibilities and imagination has a million wings. Blessed are those who live and breathe creativity, while riding on their imagination every day of their lives.
Do you want to share your story and inspire our readers ? Know that every story is paving the way for a brighter, happier future.
Photo credit: ANU NADIMPALLI