I have the great pleasure of meeting with many emerging designers in my business and I am really passionate about telling their stories and bringing them to a wider audience. They are so incredibly talented and really care about the products from their inception to seeing them on the rails in boutiques and shops. They also really care about their customers and want to make sure that the whole experience of buying their products is a pleasant one from start to finish.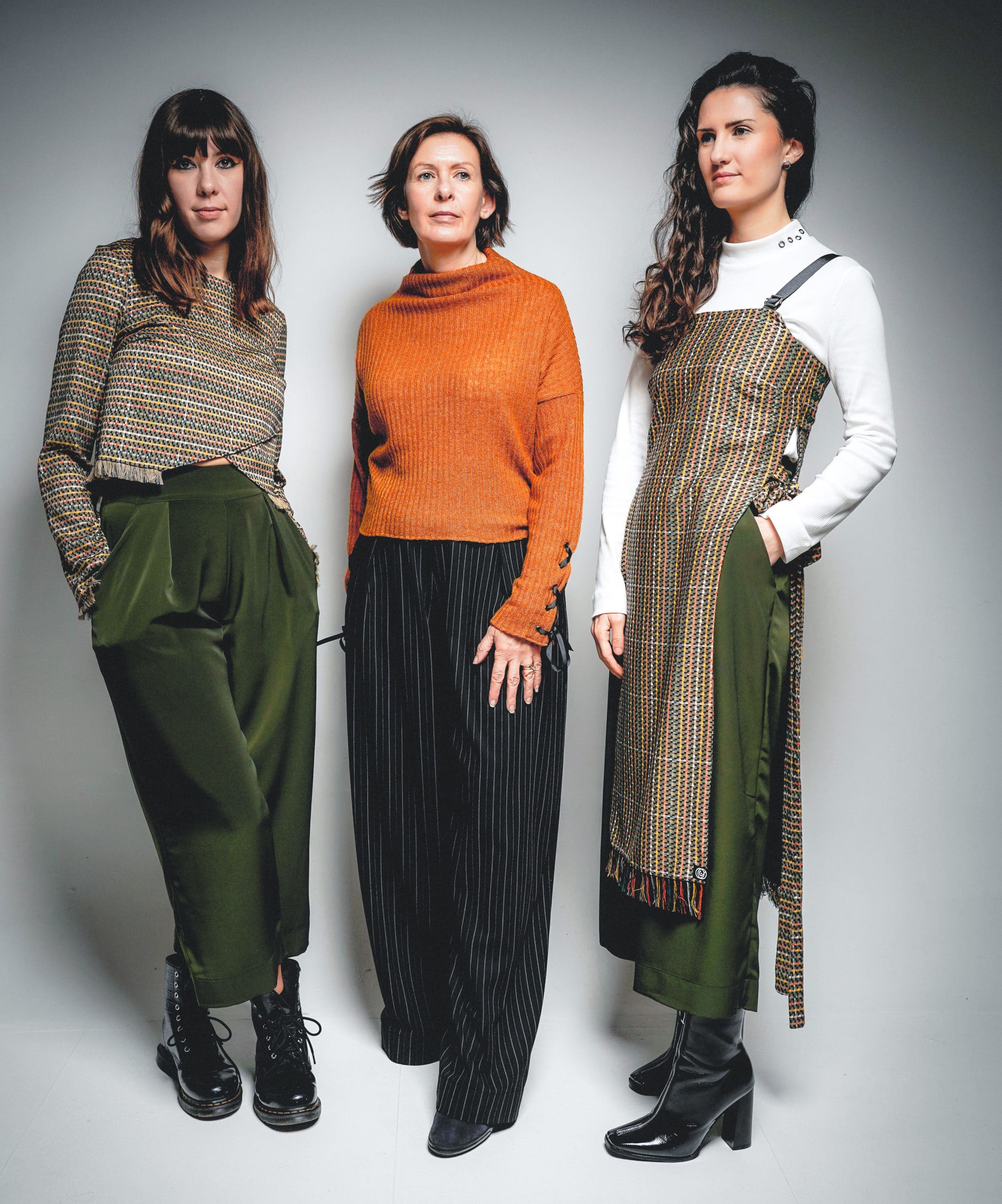 One such brand is "Out Of Sync Wales". From their studio in Cardiff, Jackie and her two daughters Kate and Meg create exclusive, conscious luxury designed for women who are not afraid to stand out from the crowd. I have met them a few times now and am constantly inspired by what they do and the clothes they create. The last time we met, I asked them these questions to find out more about their story.
What made you want to start up your own business as a family?
Jackie: My daughters both studied fashion at university, developing excellent technical skills and a deep understanding of the industry. During their internships and training, they saw practices in the fashion industry that needed to change.
We realised that, combined with my background in alterations, we could start a brand together that could be at the heart of that change.
How did you come up with the concept of Out of Sync?
Meg: I have to give credit to my sister Kate, she was the one who came up with the name 'Out of Sync', inspired by her own style. She has always been this person who is slightly different, but in a good way- not wanting to follow the crowd, styling fashion in her own way. 'Out of Sync' encompasses the vision that we have for empowering women to celebrate their own style.
Did you all fit naturally into your roles or did you have a lot of debate about who did what?
Kate: I would say it was a natural process, as we all bring something different to the table. I have a background in design and pattern cutting, my mum Jackie has a background in alterations, and Meg's speciality is design and textiles. There is an overlap in our skills, but our individual ideas inspire creative collaborations that allow each of us to use our strengths to our advantage.
What fashion choices did you make when you were younger and has that affected how you design for your brand now?
Meg: I think all of us would describe ourselves as always dressing in an alternative feminine style. Feeling more comfortable in a pair of trousers than we would a dress. When we design, this is still prominent in our aesthetic- we love creating feminine silhouettes in an unconventional way.
Kate: I've always liked to create an outfit with pieces you wouldn't expect to be styled together. Not following the trends and just wearing the clothes that I like. When designing, we often find ourselves contrasting unusual fabrics in a unique fashion.
Do you feel the need to "fit in" with how the industry perceives you, or are you happy to plough your own furrow?
Kate: We feel that naming our brand Out of Sync frees us from conventional structures. We design what we love, from ideas that are created in the moment. We turn away from needlessly following trends telling us what we should or should not be wearing. We hope that with this freedom, our clothes will be timeless throughout the seasons, and ensure you stand Out of Sync from the crowd.
What sort of things would you rule out when designing your clothes?
Kate: I would say that bright florals would not be an obvious choice for us. It's just not who we are, we tend to be more comfortable in tonal colours with intrinsic details, and a focus on understated silhouettes.
Do you make your clothes age appropriate, or do you think that is something that shouldn't be considered when designing or wearing outfits?
Jackie: Having three founders from different generations means that each of us has a distinct perspective and this encourages us to understand the needs of others. When we are designing, we are always thinking of the customers, which we believe is the basis of good design.
We don't believe that fashion choices should be dictated by one's age, but rather that people should wear whatever makes them feel great. We hope that through thoughtful layering we can achieve women feeling comfortable and stylish.
You are Out of Sync Wales – how much does your heritage play a part in what you do?
Meg: Naturally, being from Wales we are very proud to be Welsh. The rural landscapes and rolling hills subconsciously play a part in forming the tones of our colour palette, inspiring the contrasting elements within our collections.
We are very passionate about keeping the manufacturing local to Wales along with a transparent supply chain. We want to build the country's presence in the industry as its rich history lies in craftsmanship.
Can you describe the moment that you decided on your brand and to go it alone?
Kate: Starting the brand was a natural process. I would often make my own clothes and people seemed to notice what I was wearing, and warm to the fact that I had made it myself. As a family I think we bought more fabric than clothes, so starting a clothing line made sense to us. Plus, a great excuse to buy more fabric!
Can you give examples of things that inspire you and how you incorporate them into your brand?
Meg: Along with our Welsh heritage, a lot of our ideas come from using our name, Out of Sync, as inspiration and creating in the moment. We all love being tactile with our hands and experimenting with draping on the stand. Between the three of us, we feel we have enough ideas to last a lifetime- our problem is being decisive and choosing one!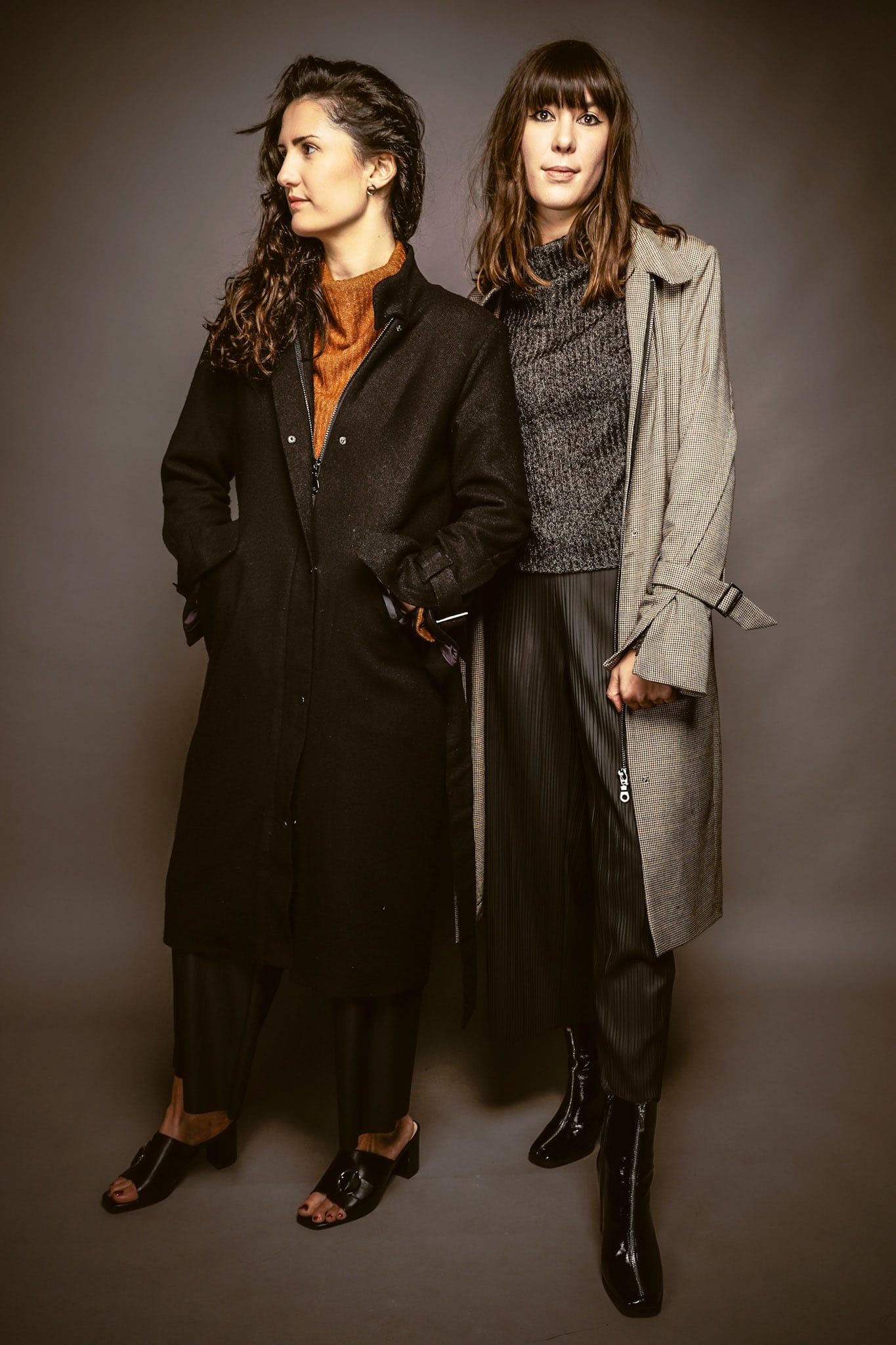 Once you had decided to set up OOS, how long was it before you had your first collection ready to be sold?
Jackie: Our collections typically take four months to create from start to finish. In our studio in Cardiff the whole process happens under one roof. From the design work to cutting the fabric and constructing the samples. Naturally, the first collections took a little longer as it was something we had been talking about for a while before setting up the brand.
What identity do you want your brand to show?
Meg: We want Out of Sync to be the reliable investment pieces that reflect your own identity, so that you stand out from the crowd. We want to be known for revitalising the value of clothing through thoughtful design and layering. To create high-quality clothing that you will treasure beyond a single season and ethically made by people who care about craftsmanship.
How did it feel to see your dream and your creations come to life?
Kate: It is exciting to finally see all your hard work come together. Watching the collection transform from fabric to hanger. Exploring the ways you can style the pieces with other items in the collections, as well as seeing the variations between how my mum and sister would style it. It's lovely to hear the response to our collections and that it is something we can be proud of.
When you envisage the true OOS woman, who do you see?
Jackie: We would see someone who is confident, independent, and ambitious enough to live life her own way. A woman who lives freely but not neglectfully. Caring about not only her style, but where her clothes come from as well.
What advice would you give women who want to express themselves and dress for who they are, rather than who society thinks they should be?
Jackie: That is an interesting question. I understand the pressures placed on women and how they should dress. When you reach a certain age group you tend to be forgotten by the fashion industry and placed in a box.
My advice would be, don't be afraid to break this mould. What we have learnt through Out of Sync is that thoughtful layering can be a powerful tool in achieving comfortable and stylish outfits suitable for women of any age.
What is the best thing about doing what you are doing?
Meg: The best thing is enjoying working together as a family. The journey of working for yourself can be hard at times but knowing that we have our family around us, that we can pick each other up and carry on makes it all worthwhile.
We love working together in our studio in Cardiff, creating meaningful clothing that we hope will be valued by others.
Once the collections are finished, it is great to hear people's reactions and be reassured that our clothing can bring joy into people's lives.
What does the future hold for OOS?
Jackie: Currently we are showcased in AQ Market, a London showroom along with many other talented designers. This September, AQ Market will have a showroom in Paris, during Fashion Week. We hope to meet international buyers there, so that Out of Sync can grow internationally, whilst promoting a conscious closet that is all made in Wales.
Our future goals include owning our own factory in Wales, providing training, and creating local employment opportunities. We are continually learning and evolving to become better for both people and the planet.