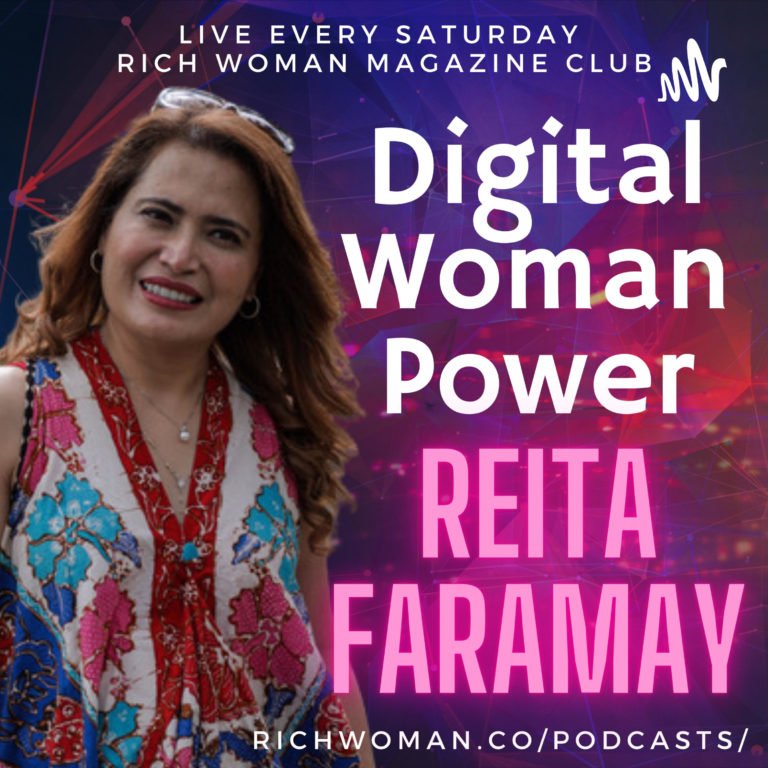 Digital Woman Power
We celebrate women in the Digital Space. Meet Reita Faramay, the Editor in Chief of Rich Woman Digital Magazine, in action!
Digital technology are impacting our lives daily, the way we live, work and connect. Despite the most cutting edge fields of science, only 22% of professional in digital technology and artificial intelligence are women.
Is mainstream media part of the problem?
How to Walk the Digital Talk
This podcast is recorded LIVE on Rich Woman Magazine Clubhouse. Join the conversation and take part in live Q&A's with hosts and guests
Reita Faramay, Editor in Chief of Rich Woman Digital Magazine talks with Stefan Leipold, Founder &CEOs of Leipold, STARK and ProSysCo.
Stefan founded STARK in 2017, a technology company that designs, patented, develops and sells the world's 1st magnetic privacy screen w/wo camera-shutter for Apple & Microsoft 'designed for surface' devices. He brought nearly 20 years of information technology expertise into the company.
The company STARK has been featured in national and international Radio, TV, online and printed media and grossed over $500,000 in only 8 months without any outside equity backing or significant marketing.
Stefan Leipold graduated from University of Hannover in Germany and received his MBA in Systems Engineering. He holds a total of over 70 professional certifications with: Comptia, Microsoft, Cisco, Nokia, Linux and econcil.
He is also the founder and CEO of ProSysCo LLC in 1998, an international provider of IT/Cybersecurity services, where his focus on customers, efficiency and execution led to significant company growth. Prior to that, he spent 3 years at Microsoft/New Horizon, as a developer pf the learning program "walking" for the USA and EU, ultimately service as the company's Lead Trainer, guiding a successful effort to streamline operations, strengthen knowledge acquisition, and drive growth.
Public Speaking about Cyber-Security in the common business field,Yachting industry and Business development is the way of giving back to society for Stefan, by raising funds, speaking at universities, college panels, Government events, corporations and personal mentoring in the United States, Europe and Asia.
Stefan is an ally of Habitat of Humanity, Red Cross, Leukemia Lymphoma Society of America and the Good Dog Foundation, non-profit organizations that helps ease human suffering.
This Episode is Sponsored by MTN Press
About the Host
Reita Faramay is the Editor in Chief of the Rich Woman Digital Magazine and Founding Member of Rich Woman Society. She holds Digital Woman Power Podcast every Saturday to inspire women and the global citizens of how digital technology is currently transforming our daily lifestyles, and how women need to step-up, be the change as they embrace and adapt to the use of digital technology.
Reita has more than 20+ years of experience in marketing and communications fields. She is a passionate driven entrepreneur, tech enthusiasts and one of the influential communications experts in Indonesia.
She builds and maintains global brands to penetrate in the Indonesian market and transformed several executives to become the company's spokespeople and industry experts.
Meet both the hosts and the guests at the First 24 Hour Peace Makers Summit on 27/28 October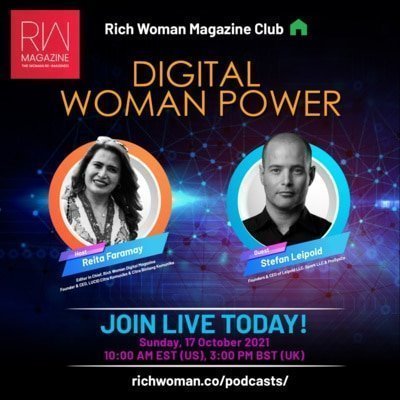 Search Results placeholder