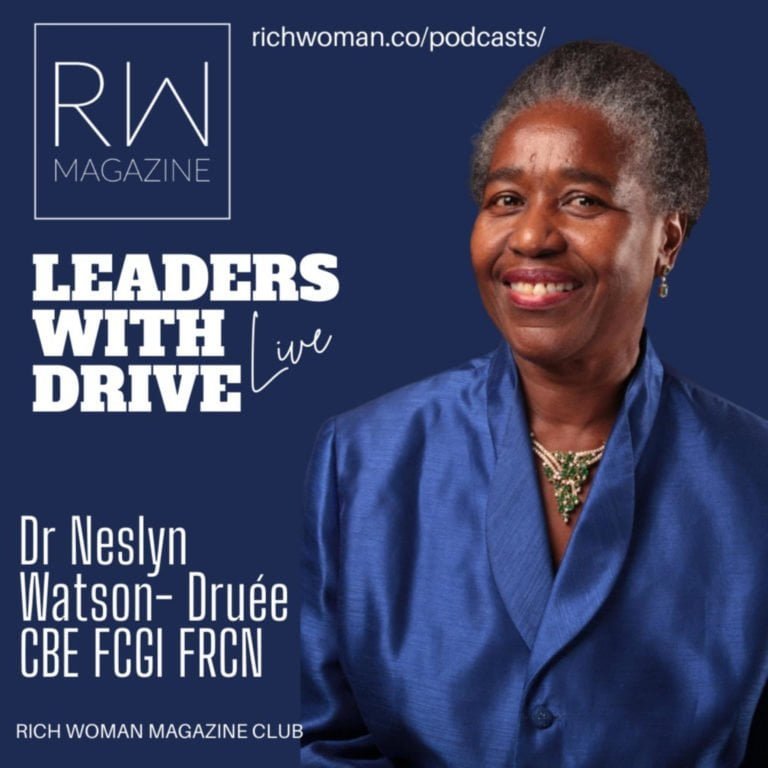 Leaders with Drive
Welcome to Leaders with Drive by Rich Woman Magazine with Dr Neslyn Watson-Druée, CBE FCGI FRCN, Patron of Rich Woman Society
Have you heard the news? Whether you choose to participate in-person, online, or both, you'll work with ideas from renowned leaders and tackle the biggest challenge and opportunity of our world: leadership- advancing the human imperative. Can leadership be re-imagined? How can smart leaders work with human emotions?
Every Episode is the focus of Leaders with Drive who share about influence, social glue, leadership, social trust, and the future of our society.
Welcome to Leaders with Drive by Rich Woman Magazine with Dr Neslyn Watson-Druée, CBE FCGI FRCN. Dr Neslyn talks about Leadership and drive. Recorded live at Rich Woman Magazine Club, this episode is followed by a Q& A Session. Join us! In this Exclusive interview Dr Neslyn Watson-Druée, CBE talks with Alicia Exworthy, a positive and effective communicator who left her corporate job to follow her calling and fulfill her life purpose.
Alicia is a health, wellbeing and personal development writer and coach. Alicia has always been motivated, and feels most fulfilled, when helping others recognise their own potential, increase their confidence and realise their capabilities.Before deciding to work for herself at the end of last year, Alicia had a successful career as a research and corporate communications expert. She has managed numerous multi-national projects for international clients and was recognised amongst her peers for her contributions early on in her career.
Alicia is a positive and effective communicator, and developed a strong reputation for her communication skills.In her career, she took on responsibility for inducting new team members and created a comprehensive weekly training programme for the whole business, to upskill all colleagues. She encouraged sharing best practice and project learnings across teams and provided opportunities for colleagues at all levels to share their own expertise and experiences. Through this, more junior colleagues were able to practice presentation skills in an informal and supportive setting. She also managed junior team members individually, working closely with them to integrate them into the team, set them up for success and support their ongoing development as they progressed.Despite outward success, Alicia had to take a brave decision, leave her job behind to fulfill her life purpose. Listen in, be inspired and get in touch with Alicia, as she is truly a remarklable positive thinker. She is now actively seeking discomfort in order to be true to herself and live a life more aligned to her values and purpose, and she is committed to helping others do the same.
This Episode is Sponsored by MTN Press
Dr Neslyn Watson-Druée, CBE is the Patron and Founding Member of Rich Woman Society. Dr Neslyn is a Business Psychologist and Professional Executive Coach serving CEOs, Directors and Aspiring Directors to: be their best in their leadership, achieve high performance, achieve excellence, transform their business and life with integrity, passion, vision and emotional intelligence. Dr Neslyn is the recipient of 25+ Awards inclusive of 100 Best Global Coaching Leader from the World Human Resources Congress 2017 and Women of the Decade in Community Leadership & Social Change from Women Economic Forum May 2017. Dr Neslyn speaks Internationally on Leadership. Dr Neslyn is focused on supporting deputy directors to achieve director positions, release their creativity, vision, intelligence, greatness and light. Dr Neslyn cares about the results that her clients achieve. She operates from the perspective that her clients do not invest in coaching – they invest in results – to that end, Dr Neslyn is passionate regarding her clients returns on investment. Dr Neslyn gives emphasis on empowering leadership skills she enables her clients to act, to become even more courageous leaders & step into leading a life that is powerful; thus, living a joyful and authentic life with courage, love, wisdom, consciousness of Divine Light and Divine Love.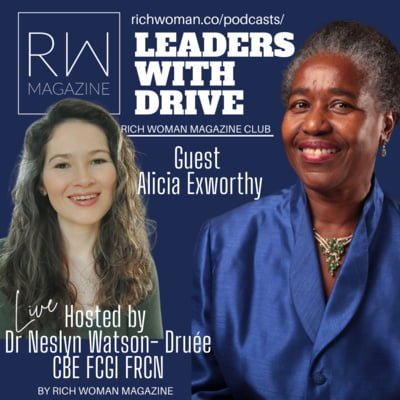 Search Results placeholder